Orchid Showcase in Denver Botanic Gardens' Orangery
January 31, 2012
Nick Snakenberg
, Curator of Tropical Collections and Associate Director of Horticulture
About this time each year I start itching to see the first blooms of spring.  Thankfully, the Orangery at Denver Botanic Gardens is currently loaded with colorful orchid blossoms.  Come visit our Orchid Showcase to help quench your thirst for that burst of spring color.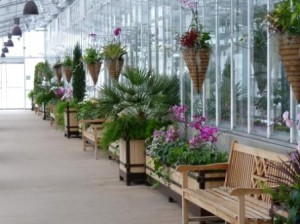 Our Orchid Showcase (which runs through February 20th) features hundreds of orchid plants in full bloom artfully arranged throughout the entire Orangery.  The colorful blossoms are complimented by exotic bromeliads and other lush tropical foliage as well as citrus trees – many of which are also currently in full bloom.  Between the scent of the citrus blossoms and the bright colors of the orchid flowers, it's easy to forget that it is still winter.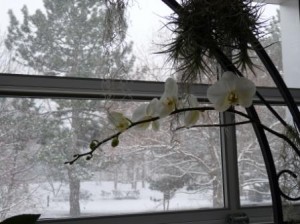 Unless of course it is snowing outside – but this only makes the warmth and coziness of the Orangery all the more enjoyable.  If you'd like to learn a bit more about growing orchids, we are also offering free orchid repotting demonstrations each Saturday and Sunday afternoon at 12:30.  Just drop by Marnie's Pavilion and a Horticulture staff member will be on hand to help ease any anxiety you may have about repotting and caring for orchids. The Orangery at the west end of the greenhouse complex has quickly become one of my favorite new spaces at Denver Botanic Gardens.  Sitting on a comfortable garden bench surrounded by beautiful lush plant life is especially enjoyable on a cold winter day.  It's not often you can enjoy hundreds of orchid blossoms interspersed with blossoming citrus trees juxtaposed with snow covered pines just a few feet away.  I hope you will find time to pay a visit soon.