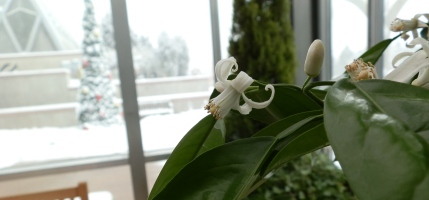 Winter is busy, and not just for Colorado skiers. Gardeners are planning, dreaming and preparing; growers are tending indoor blooms; and propagators are starting plants to be ready for warm weather: busy! Evergreens are balancing photosynthesis and drought, orchids are delivering on the promise of color and beauty, and seeds are trying to intuit the fine line between germinating too soon and too late: busy! For some gardeners, winter means that their busy, short days can't hold time to appreciate each bloom and everything that is happening.
You can't always look ahead either.  It was pure chance that I saw this white Tangelo blossom on a snowy day.  (The Orangery at the Gardens looks lovely with the orchid showcase throughout.)  But it didn't look like a random chance for the two knitters I saw perched on a bench.  They had obviously come to spend time talking and knitting and enjoy a panaoramic view of the falling snow from a warm, citrus-scented enclosure.  And I suppose that is the trick to surviving most busy time: prioritize and make time for what you really want.
This weekend alone hosts many happenings. Cord and Penn Parmenter are teaching Sustainable Greenhouse Design and Passive Solar Greenhouse Growing.  In Fort Collins, The Gardens on Spring Creek is presenting Marcia Tatroe, longtime Denver gardening author, and Dan Johnson, curator of native plants at Denver Botanic Gardens.  Marcia will speak about "Four Seasons in the Xeric Garden" and Dan will present "Meet the Natives: Bridging the Gap between Trail and Garden."  I think of all the fun they'll have and want to be in two places at once!  And then, all the new information is just in time to layout a springtime garden plan.
Its no wonder the USDA released the updated zone map this month--it is so busy there'll barely be time to prepare!