Champion the Gardens' mission and initiatives by becoming a member. As a non-profit organization and living museum, your support allows the Gardens to maintain a diverse selection of plants at every stage of life. From food programs to research and education, your membership makes an impact.
Members give back to the community and receive exclusive benefits for a full year. Whether you love lavish blooms or exploring snowy pathways, a membership is always in season!
Membership Benefits per Level
Explore what each membership level below has to offer.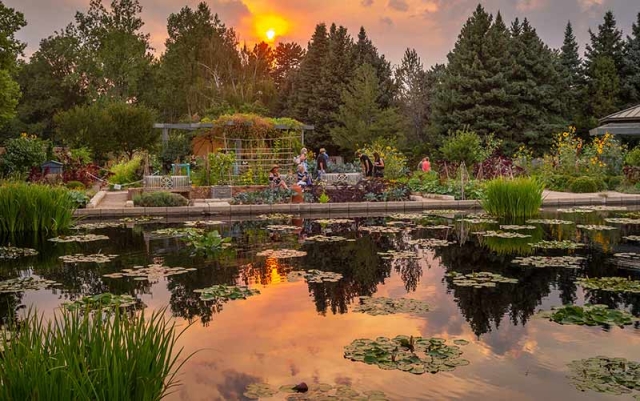 All membership levels include:
Supporting the Gardens mission to help connect people with plants!
Free general admission to both York Street and Chatfield Farms
Advanced ticketing and special discounted pricing for special events 
Discounted pricing for education programs
Invitations to member only previews and events 
10 percent discount at the Shop at the Gardens, Offshoots Café, Hive Garden Bistro and Copper Door coffee shop
Free subscriptions to the Gardens' digital quarterly magazine and monthly e-newsletter 
Access and checkout privileges to the Helen Fowler Library 
Reciprocal membership benefits to more than 300 American Horticultural Society member gardens in North America. 
Membership categories up to and including the Four Seasons ($1,275) membership level are fully tax deductible.

Membership FAQ
See details about Summer Concert Series tickets, find answers to your general membership questions and learn more about the Cheesman Gate entry fob. 

Fobs
A fob allows members to gain access through the Cheesman Gate during general admission hours.

Mobile App
Use the Gardens free app to utilize the GPS-enabled map to find your favorite gardens. Never lose your membership card again! Access your membership account, digital membership cards and event tickets.

Auto Renew
Join our Auto Renew program! Make one payment today and renew conveniently for years to come. Call 720-865-3500 to set up automatic renewal for your membership.

Corporate Membership
Your organization can demonstrate its commitment to conservation, education and the environment through our corporate giving programs. 
Membership benefits subject to change without notice.