Outdoor water use accounts for more than half of Denver's water consumption. The Gardens is committed to showcasing beautiful gardens appropriate for a semi-arid climate while advancing water-efficient gardening and agriculture principles through educational programs and partnerships with likeminded organizations.
Collaborations and Initiatives
Other water highlights:
Several York Street gardens, including the Laura Smith Porter Plains Garden and Dryland Mesa, are not irrigated at all.
Chatfield Farms has cut its water use in half over the last few years by converting from sprinkler to drip irrigation for nine acres of pumpkins grown for Pumpkin Festival. Additional changes in soil management (using cover crops and composting to build soil organic matter) at the CSA have also improved water efficiency by increasing the water-holding capacity of soils.
As the first green roof built on a city-owned building in Denver, the green roof over Offshoots Cafe at York Street demonstrates the benefits of green roofs to communities and the environment. Gardens Navigator includes a virtual tour featuring plant species data and irrigation records to gauge each plant's suitability for green roof applications.
Since June 2006 the Gardens has participated in The Community Collaborative Rain Hail and Snow Network, a citizen science project tracking precipitation. Every day of the year, a precipitation report is submitted using the CoCORaHS approved gauge. The information submitted through this program is used by climatologists, weather forecasters and a wide variety of government and scientific entities to track the effects of precipitation on people, crops, wildlife and ecosystems.
Water 101 - Save some blue and green!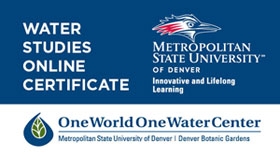 Learn more about water:
How will population growth and climate change impact water supplies in our semi-arid climate?
How did Colorado water law develop, and how is it unique?
What professional and personal opportunities exist for water stewardship?
A new online certificate program gives lifelong learners the opportunity to explore answers to all of these questions.
The One World One Water Center, a jointly managed program between Denver Botanic Gardens and Metropolitan State University of Denver, is offering Gardens members a 10 percent discount on a new online water studies certificate. Use promo code: OWOW10. NOTE: The code box pops up AFTER entering credit card information.
WITH SUPPORT FROM

MEDIA PARTNER