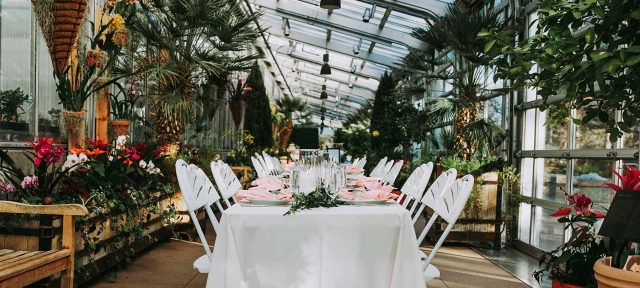 York Street Private Events
Denver Botanic Gardens at York Street provides a venue of unparalleled beauty and inspiration for weddings, receptions, showers, retreats, meetings and more.
All sites are available seven days a week, however availability may differ based on the season.
Gardens and collections showcase rare, exotic and native plants from all corners of the world. Distinctive displays define and celebrate a Western identity and Colorado's unique high-altitude climate and geography.

Chatfield Farms Private Events
Denver Botanic Gardens Chatfield Farms provides visitors with rustic chic charm in Littleton. Incredible views of the foothills and surrounding gardens can be seen from all rental sites. This is the perfect place to get married, host a corporate retreat or have a holiday party with the feel of being in the countryside, while only being minutes from the city.
Chatfield Farms is set on 700 acres that include an 1800s homestead, historical buildings and working farm. The location is nestled against the foothills of the Rocky Mountains and trees line the banks of Deer Creek, which runs through the property. Two and a half miles of nature trails and numerous wildflower gardens create a natural paradise.