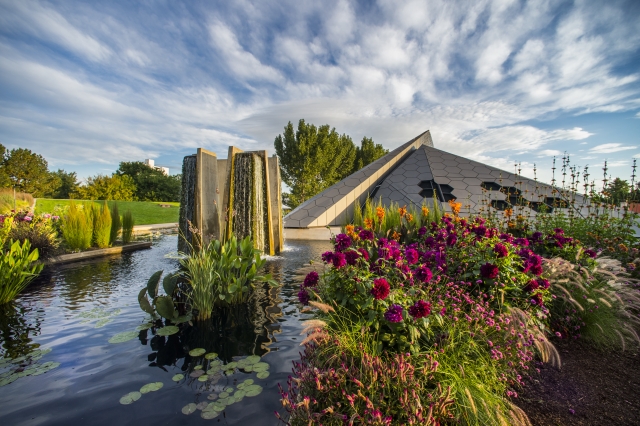 York Street
Denver Botanic Gardens at York Street, in cooperation with the City and County of Denver, presents a wide range of gardens and collections on 24 acres. The gardens reflect an ever-widening diversity of plants from all corners of the world.
Denver Botanic Gardens York Street is open with limited capacity and timed tickets. Tickets must be purchased in advance and are not available onsite. 
It is only with your cooperation as a visitor that we can remain open. Please follow the procedures outlined here.
Access to buildings remains limited at both locations. The Science Pyramid, Boettcher Memorial Tropical Conservatory, Ella Mullen Weckbaugh Tea House, the solarium, Mordecai Children's Garden and the Cactus & Succulent House remain closed. 
Freyer – Newman Center art galleries are open.
Gallery Hours: 10 a.m. – 8 p.m. daily, included with admission. View upcoming early closures. 
No food or drink allowed in galleries.
In a continuing effort to provide the best and safest experience possible for our visitors, the Orangery will be closed during cold weather that would prohibit adequate social distancing. Fortunately, Colorado experiences many warm days throughout the winter. On days that are warm enough to not harm the plants, the Orangery's garage doors will be open and visitors may enter then.
Today's Hours:
Thursday:
9:00 am-8:00 pm
Seniors (65+) & Military (w/ID)
$11.50
Children (3-15) & Students (w/ID)
$11
Children 2 and Under
Free