York Street Trial Garden Evaluation Day
September 23, 2014
Bridget Blomquist
, Horticulture Specialist, Annuals
On August 5, 2014, Denver Botanic Gardens conducted its second trial evaluation day for the York Street Trial Garden. Located right outside our main entrance gate, visitors can get a look at various plant entries participating in the trials.
The purpose of Denver Botanic Gardens' York Street Trial Garden is to evaluate the performance of plants submitted by seed and plug companies. From the data collected, we hope to assist in the companies' assessment of submitted entries in their vigor in our Rocky Mountain environment and popularity in the trial. Plants are evaluated on a scale of one to ten on their uniformity, vigor, floral characteristic, and foliage. Denver Botanic Garden horticulture staff members, DBG garden volunteers, Denver Garden Club Members, The Denver Botanic Gardens' Guild, local nurserymen, local and national growers, and other local Green Industry and horticulture professionals were invited to evaluate the plants.
Thirty-five different plants were part of the trial garden representing six different seed and plug companies from the United States and France. Before planting, the trial bed area was prepared by removing weeds and debris. Organic compost was added to amend the soil. Twenty plants were planted for each annual and perennial entry. Only five of each shrub and vine entry was planted. Of the 20 plants per entry, five plants were chosen randomly, and these five were measured and photographed on a biweekly basis.
Plant entries were watered twice a week by an automated irrigation system with popup heads. Entries were also hand-watered to supplement the irrigation watering schedule on an as needed basis when low precipitation rates and higher temperatures were experienced. A water-soluble fertilizer was used to feed the plants. Beds were hand weeded; no herbicides were used.
On evaluation day a total of 58 ballots were collected.
Results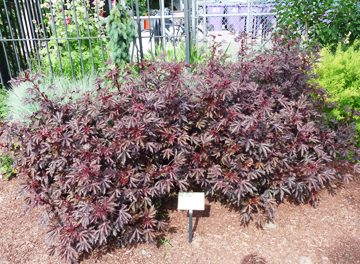 Best of Show: Hibiscus 'Mahogany Splendor,' PAS Entry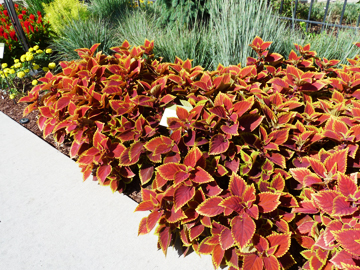 First Runner Up: Plectranthus 'UF06419' Trusty Rusty, Ball FloraPlant Entry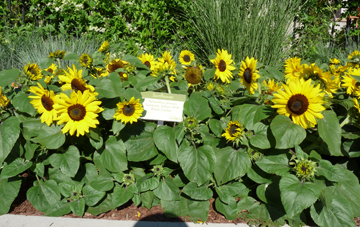 Second Runner Up: Helianthus annuus 'Suntastic Yellow With Black Center,' HM Clause Entry
Congratulations to the winners, and thank you to the participating companies who submitted plant entries. We hope to expand the number of participating companies in the 2015 York Street Trial Garden.