The grass is greener...at Chatfield!
September 24, 2014
Panayoti Kelaidis
, Senior Curator & Director of Outreach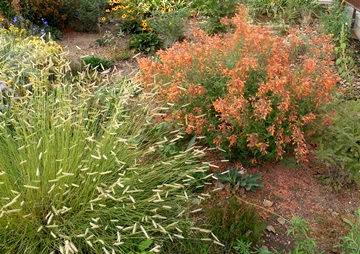 Bouteloua gracilis 'Blonde Ambition' on left
I'm talking about the OTHER kind of grass, incidentally. The orange Agastache on the upper right of this picture is also a Plant Select choice: Agastache aurantiaca--a spectacular species one does not see nearly enough. Both of these, and many more Plant Select choices are growing and blooming magnificently right now (took this pic yesterday!) at Denver Botanic Gardens at Chatfield--in the fabulous series of gardens wrapped around the Visitor Center and historic schoolhouse, designed by Lauren Springer Ogden and her husband Scott--and maintained superbly by Emilee Vanderneut, lead horticulturist at Chatfield. I have been dazzled by this garden since early spring--and I think it's as beautiful now in early autumn as it was in its glory days of June, July and August! A truly multi-season garden. This is a wonderful place to see many grasses, but three of the best species promoted by Plant Select are here in droves--grown to perfection. 'Blonde Ambition' is a Blue Gramma on steroids (Bouteloua gracilis) selected by David Salman. It is here in wonderful drifts.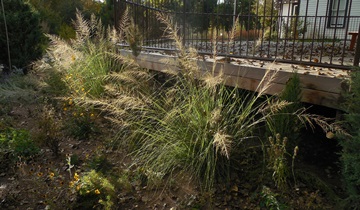 Sporobolus wrightii (Giant Sacaton)
I believe this is barely a year in the ground. Giant Sacaton is one of the most dramatic, but very useful Plant Select choices. It's like a more manageable Pampas Grass, only totally drought tolerant. I think it's more subtle and easier to live with! These will only get more spectacular in the key spot they're put in near the Farm Schoolhouse.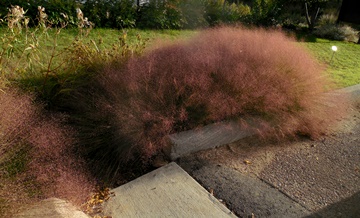 Muhlenbergia reverchonii  Undaunted ruby Muhly TM
Hitherto, the most spectacular planting of this unbelievable native grass was in the Rock Alpine Garden at York Street...but you can now see it in big drifts and in wonderful combinations in the breathtaking native gardens at Chatfield. How clever to see this grass growing in a garden designed by the Ogdens, when they were also the ones who first collected the seed of this strain, which I personally consider to be the most beautiful of ornamental grasses. If I could, I would make all the Kart Foerster Calamagrostis transform instantaneously into this (with perhaps a few 'Blonde Ambition' tossed in). Seeing this garden in the majestic setting of Chatfield is an inspiration.Get on down there PRONTO! You too will be singing Hallelujah!