What is the Scientific & Cultural Facilities District (SCFD)?
September 19, 2016
Brian Vogt
, Chief Executive Officer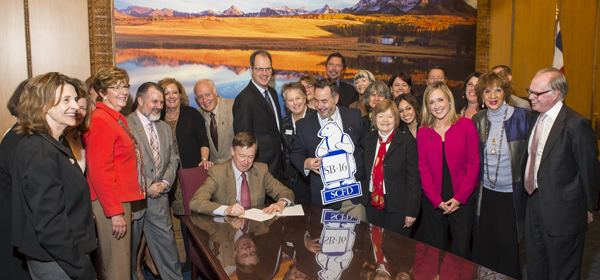 Up until 30 years ago, you would have been hard pressed to find great examples of metropolitan cooperation. Years of political wrangling between and among Denver and the suburbs resulted in bitterness and rancor. Finally, the regional economy took a dramatic slide and desperation gave birth to something quite wonderful – regionalism.
In 1986, I became an economic developer, meaning that my job was all about supporting the growth of existing businesses and recruiting new ones to my area, a wide swath of south metro Denver. As the new kid on the block, it quickly became apparent to me that this was one highly competitive field and one that was pretty dysfunctional. Thanks to the leadership of Tom Clark of the Denver Chamber, eight of us banded together and formed an alliance called the Metro Denver Network. We shared information, operated within a code of ethics and stopped competing against one another. Ever since that time, the regional economy has consistently outperformed national trends.
This new regionalism was an early example of the unique environment that countless leaders and organizations have crafted within the seven-county metropolitan area. The next big step was taken with the birth of the Scientific and Cultural Facilities District (SCFD). With a modest sales tax of one penny on every 10 dollars, citizens of communities from Boulder to Parker have, for 27 years, provided foundational support for every type of cherished cultural and scientific organization. SCFD literally saved the largest institutions, including the Gardens, when state and local funding was slashed. It sustained the growth of regional institutions, like the Butterfly Pavilion. And it triggered the creation and sustainability of countless organizations, like Cleo Parker Robinson Dance.
Twice since its establishment, SCFD has been reauthorized by the voters. It goes before them again this November, thanks to a dynamic, multi-year process that recently took the important official step in the Legislature with strong bi-partisan support.
The ability to work together in order to make our entire community better seems such an obvious aspiration. Yet, it is one of the rarest phenomena in metropolitan areas across the country. It is rare because it is hard. It is rare because it requires continual commitment. Despite that, it is the centerpiece of what makes our region special.
If you would like to be a champion of the next chapter for SCFD, or simply want to learn more about it, visit www.UnitedforSCFD.com.
Comments
Hello
Hello, Brian. I enjoyed reading your story, it is inspiring. I read about your organization back in 2015 in this article. It said that you face some problems. Have you been able to overcome them? Actually, your story reminded me of my own experience in mobile development, it is so cool to find something in common.
I have found your Facebook page but haven't been able to find your app on App Store.  Don't you have one?
Add new comment