Christmas in July? Try January.
July 6, 2016
Special Events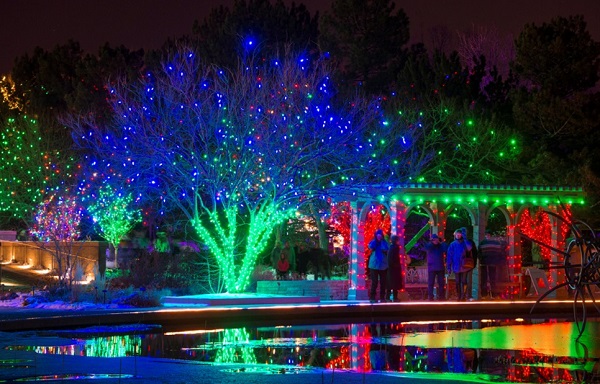 It may seem a bit early to be thinking about twinkle lights and hot chocolate, but it's not too early for Denver Botanic Gardens' Events Department at our York Street location! The dazzling light display produced every year at Blossoms of Light is no small feat to produce: months of designing, planning, scheduling and coordinating are required before we open our doors the evening after Thanksgiving. What takes so much time? Here's a peek behind the scenes:
December: While It's Still Fresh Before Blossoms of Light even hits the busy season, event coordinators walk the entire path to begin thinking about the next year's display. With hundreds of trees and plants being decorated, it's much easier to visualize potential changes while looking at the current lighting! Are there any color combinations we don't like? Are there any areas we love enough to keep them exactly the same? What new spins can we take to give the display a fresh look?
January-February: Dreaming Big This is the time of year when we dream big. Using our walkthrough from December as a base, we now meticulously comb through our color choices. Every single tree is considered individually. We also begin thinking about what new features we could incorporate. We try to think outside the box about everything we could possibly want, knowing that the next few months will be about making choices and paring down.
March-May: Can Dreams Be Reality? Once we've put together our wish list, we meet with our lighting installer, horticulturists, electricians and many others to determine how many of our dreams can become reality. There are many factors to consider to determine the feasibility of each element. Some trees may not be stable enough to climb and can't be reached from a lift or ladder. Other areas of the Gardens do not have enough electricity to support large expansions. Certain pathways may be difficult to keep clear of snow, ice, and water. Some structures cannot have lights attached to them. There's a lot to think about! After multiple rounds of editing, cutting, and fine-tuning color choices, we finally submit our design to our lighting installer.
June-August: All the Little Details Once our display decisions have been made, it's time to start focusing on everything else beyond the lights. We start looking at logistics for ticketing, parking, volunteers, security, marketing efforts, food and beverage, souvenirs, non-lighting decorations, and more.
September-October: Installation After Labor Day, our lighting installer begins stringing lights. This can be a challenge as a huge number of trees and shrubs are still fully leafed-out, but with thousands of strings going up, it takes quite a long time to install them all. You may see the team out and about in the Gardens periodically during this process, hanging one string of lights at a time.
November: Home Stretch The last of the lights are strung. Electrical connections are made. Volunteers are finalized. Decorations are installed. We conduct multiple walkthroughs with our installer to make adjustments to this tree, add lights to that shrub, remove lights from that structure. Then finally, on the day after Thanksgiving, we open the doors to the winter wonderland we've spent almost an entire year creating.
Blossoms of Light has become a holiday tradition for many Front Range families. Our goal is to provide a fresh and exciting display each year, but also to hold fast to some of the favorite features our guests have come to expect. This year's display will feature a longer path, new areas we've never lit before, and thousands and thousands more individual bulbs. It promises to be a spectacular way to celebrate the holidays!
In the mood for twinkle lights and hot chocolate now? Tickets for Blossoms of Light are already on sale. Get your Blossoms of Light tickets today!