Shop Spring Plant Sale - Online!
April 16, 2021
Special Events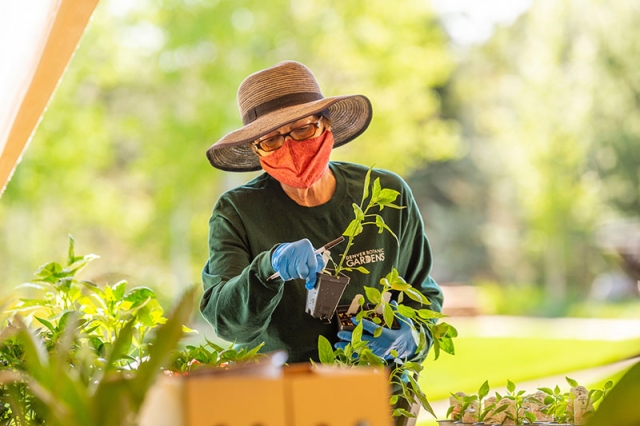 Spring Plant Sale goes online again for 2021 to offer a broad selection of plants for gardeners of every skill level. We know shopping online for plants is very different from shopping in person, but we are hoping to provide a smooth experience for all shoppers by simplifying the store layout and providing more details about individual plant. After shopping online, our team will pack your order so it is ready for you on your assigned pickup day. 
When can I shop online?
Online shopping will begin at 10 a.m. on Tuesday, April 27 and the store will be open for shopping through Thursday, April 29 until 4 p.m., while supplies last. 
How do I find plants on the online store?
The store is divided into plant divisions to help you find what you need by going directly to the division you are seeking to purchase plants from. 
 We have organized all plants alphabetically. In addition, we provide a search bar to help guide the experience to find the exact plants you are looking for just by typing in the name. The plants can be searched by typing in their scientific or common name. 
 We encourage everyone to take a glance through our shopping guide to have a general idea of what plants they are looking for before shopping.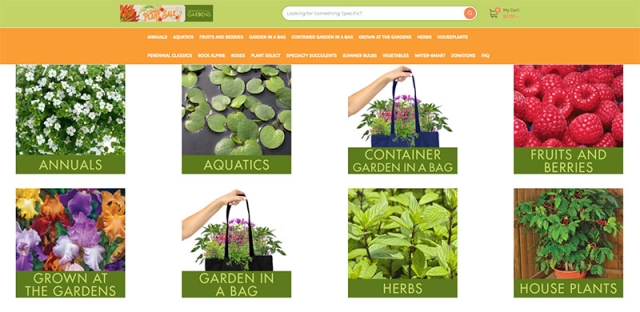 What information will be available for each plant?
Within each product, you will find a photo of the plant and a plant info sheet listing important information such as sun and planting needs. 
Tip: Save the plant info sheets to your computer for future reference.
We will additionally have pot/plant sizes listed with every plant. 
If there is any additional information, you will find it below the plant image in the description. 
How do I add a product to my cart?
When you find a product that you would like to purchase, you can either:
Add the product to your cart from the product page by hovering over the product and selecting Add to Cart.
Open the product by selecting it from the product page in which it will load a page where you can view product details, choose the quantity, then Add to Cart.
Please note items in your cart are not confirmed until your order is paid for, so consider dividing your order into multiple purchases during peak times if you have a long shopping list. 
How do I checkout?
You can find your cart on the top right corner of the page. Click on My Cart next to the cart icon. Select View Cart to view what is in your cart before checking out or select Check Out Now to take you directly to the checkout screen.
When you reach the checkout screen, enter your email address and click "CONTINUE AS GUEST." Existing Gardens membership or the Shop that the Gardens login details will not work. 
 If you have a member coupon code, enter it on the right side above where your total is listed in the box that says Coupon/Gift Certificate. Once you hit APPLY next to the Coupon/Gift Certificate, you will see the coupon applied to your total. A coupon code for 10% off will be sent out to all members the morning of April 26.
Enter your shipping, billing, and payment information. Note that all orders will automatically select In-Person Pickup as we will not be shipping orders. Check to agree to the terms and conditions, then click PLACE ORDER.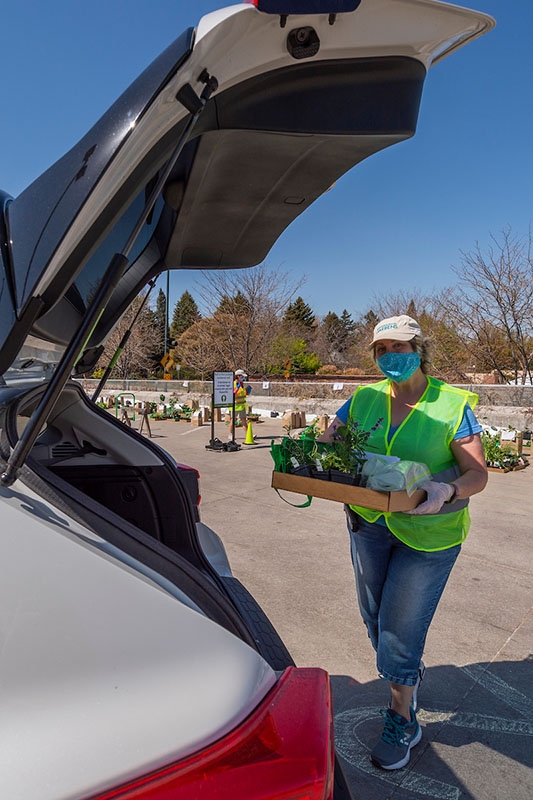 What happens after I place my order?
Once you purchase, you will receive a confirmation email. 
On May 3, you will receive an additional email with all the details for how to pick up your plants. Order pickup will happen between May 6-9.
How is my order prepared?
Each order is hand-picked by a staff member or volunteer. 
We will do our best to fill every order completely. However, there are sometimes factors outside of our control that prevent us from doing so, such as last-minute inventory changes or plants arriving in poor condition. 
We will issue you refund for any items we are unable to fulfill within two weeks of the sale. 
How do I pick up my order?
Order pickup will happen on May 6-9 on the top deck of the parking garage.
You will receive an email with your pickup day, time, and additional instructions. 
Any questions? Please view our shopping guide. 
 
For additional questions, please email specialevents@botanicgardens.org