Shop at the Gardens Now Open!
August 3, 2009
Doris Boardman
, Website & SEO Manager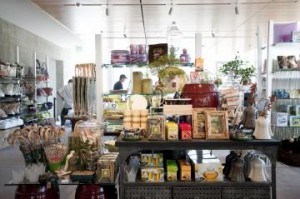 Yet another BRAND NEW experience is waiting for you at Denver Botanic Gardens. The Gardens has opened a new gift shop, Shop at the Gardens. The entire gift shop was re-designed from the ground up to offer our visitors the most sustainable, creative, unique garden and gift products in Denver.

Come shop an extensive collection of gifts and toys for children, unique jewelry, garden and cook books, apparel, affordable gifts made from the most cutting-edge sustainable materials and packaging, plants and other items sure to be found nowhere else in Denver. Plus, you give back to the Gardens when you shop with us. Proceeds from the gift shop help fund Gardens' programming for the community.
Chuck McGlothlin (pictured above), is the shop manager and buyer. He and his very capable staff are here to help you select just the right gift for yourself, someone you love or for your home!
Shop at the Gardens is open year-round during regular Gardens hours and is located in the new Bonfils-Stanton Visitor Center. Admission to the Shop at the Gardens and all parking is free.
We'll not only offer you the most unique gifts in the City of Denver, we'll make it easy for you to shop with us as well. Think all-natural gifts. Think plants and gardening supplies. Think affordable, relevant offerings. Shop over 10,000 items that have been personally selected by our staff to reflect the Gardens' core values of sustainability, transformation, diversity and relevance. Look forward to seeing you soon.