Our New Visitor Center Welcomes You!
July 24, 2009
Doris Boardman
, Website & SEO Manager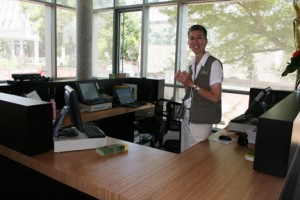 The Gardens have never looked better. So much is in bloom thanks to all of the recent rain and the expertise of our horticulturists. Although it may look like things are not fully open at the Gardens when you drive by our entrance on York Street! Rest assured we are open with over 100 new parking spaces available on the lower level (enter on York Street) in our new parking garage with free parking. The parking structure will be opened in phases. The second level, with another 100 spaces, is expected to open in the next few days. Gardens' staff members and landscape contractors are in the process of planting 6,853 plants, including trees, vines and shrubs, on both sides of and throughout the structure. 
The Bonfils-Stanton Visitor Center is absolutely stunning. When you enter, you can purchase your tickets to the Gardens on your right. Very soon you will be able to purchase your Gardens entry tickets using our new ticketing kiosks.
The new Shop at the Gardens gift shop is to your left. You'll find all-natural gifts, plants, gardening supplies, books, and tons more--even dinosaur slippers for the kids. 
And one of the traditions that took place at the old Gatehouse is still in place in our new Visitor Center. Many people in the neighborhood dropped by while walking their dogs and their dog got a treat at the old Gatehouse window. See the blog post from last year with photos of the dogs getting treats. With the spacious new Visitor Center, visitors now bring their dogs into the Visitor Center to get their treats. Dogs are not allowed into the Gardens, however their owners can get out of the hot sun for a few moments while their dog gets a treat. And we can now pet them since we don't have that tiny little window as a barrier between us.
Come visit soon. Entrance into the Visitor Center is free. And so are the dog treats!