July Walking Tour - Container Displays
July 2, 2020
Jennifer Miller
, Horticulture Coordinator
Now that it's July and seedlings have had time to root in, container displays around the Gardens are taking off — bulking up in size, spilling over edges and launching flower stalks. Come with me as we wander among some of this season's most colorful and dynamic displays. 
First stop, the large containers outside the Bonfils-Stanton Visitor Center. Each pot is filled with citrus-colored flowers that echo the theme of neighboring beds – "So glad to see you," a joyful hello to all who pass by. Although I chose the theme over a year ago, it has proven unexpectedly apt, reflecting the gratitude we feel welcoming visitors back. The highlight of this design is the tropical legume Senna didymobotrya planted on either side of two cannas. Each plant has long stems that arch inward and, at distance, remind me of a person's arms raised up in excitement before hugging a friend. Yellow, round flowers and leaves that smell like toasted corn give this beauty its common name, popcorn cassia.    
Next stop, outside Marnie's Pavilion where colleague Nick Daniels has transformed the low walls into a wondrous collection of cacti and succulents. This display encapsulates the principle that contrast is completion. It is diverse, unifying and satisfies our love of visual drama. Note how the variegated Agave attenuata 'AGAVWS' Ray of Light pops in front of the brilliant red Aloe dorotheae.
From here we walk south to the Science Pyramid, where colleague Mike Holloway shows his talent for plant mixology -- combining cool and hot colors, spiny geometric forms and soft cascading ones. You'll see more of his talents in the Victorian Secret Garden to the northwest, where kitsch is elevated to high art. Humorous touches — including a head planted with a bromeliad wig — are mixed with elegant combinations of foliage plants.
But first pass through the Steppe Garden to see an eclectic mixture of high-altitude gems displayed in front of the waterway. Colleague Sonya Anderson has assembled plants from four steppe regions, including a large pelargonium that looks like a tree and a king protea.
More must-see containers await in the Annuals Garden and Pavilion, where colleague Bridget Blomquist has lined beams of the pergola with baskets of silver dichondra, magenta geraniums and an Alternanthera the color of red wine. The plants match those in planters below with equal lushness, making you feel as if you've escaped into a flower tunnel.
Next stop, South African Plaza where colleague Mike Kintgen transports us to the tip of Africa and nearby Madagascar and Sub-Saharan Africa. Here you'll find flora that's both familiar and unusual. Pelargoniums join lesser known specimens, such as Senecio and Kalanchoe, in pots on the terrace and in an adjacent bed of flowering torches, known as Kniphofia.
Finally, walk through Le Potager, past a sea of larkspur to the gazebo and you'll find a container of Abutilon 'Souvenir de Bonn'. Encircling it are wands of Campanula glomerata, mingling so naturally with the flowering maple that you'd think they grew in the pot too. In fact, the campanula grows in the bed and the potted Abutilon was placed there by colleague Ebi Kondo to create a seamless effect.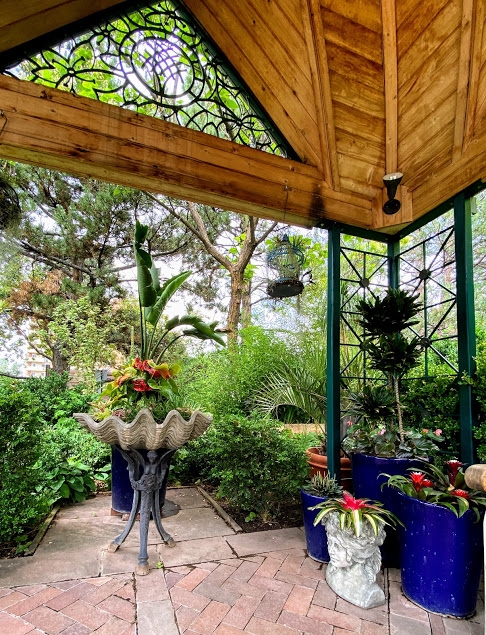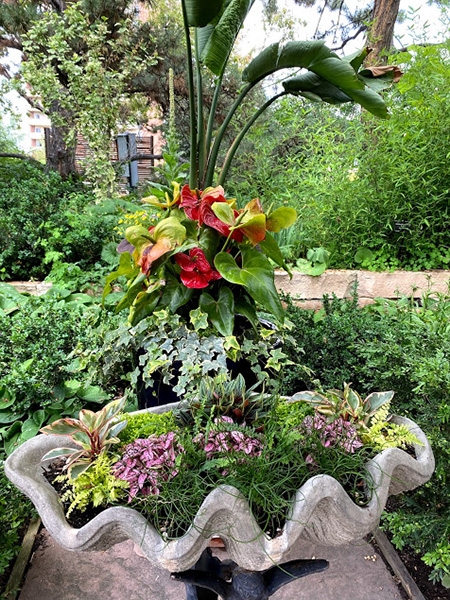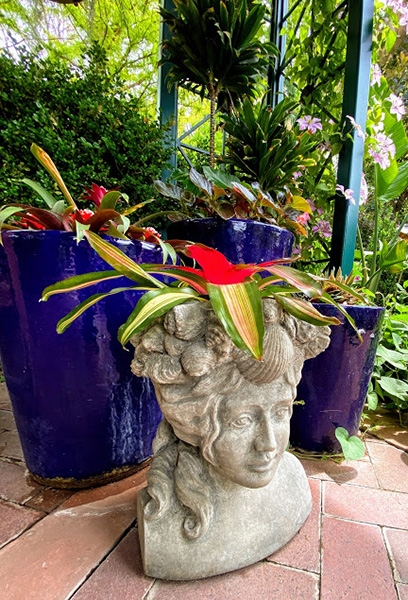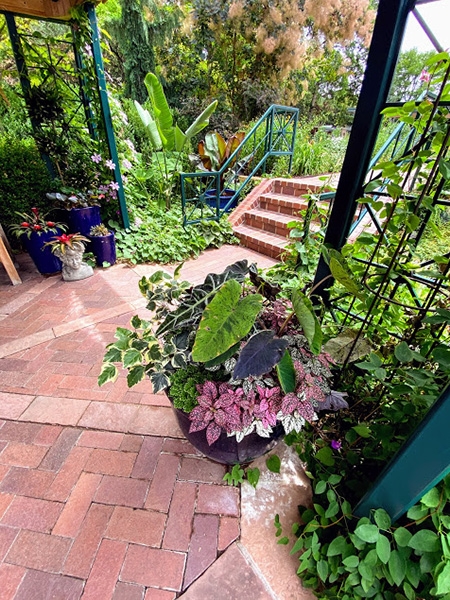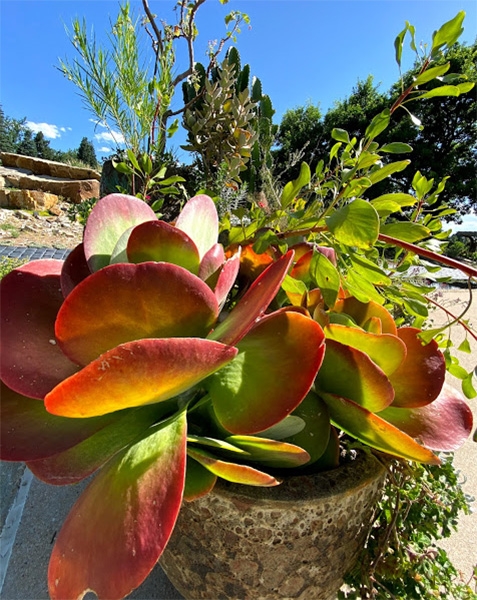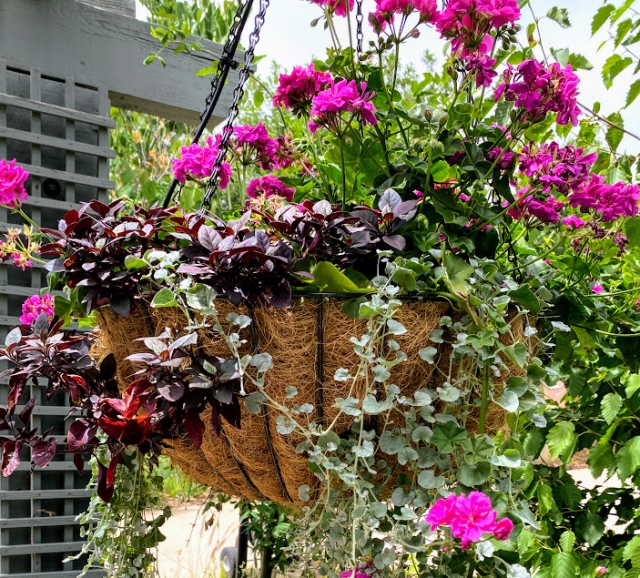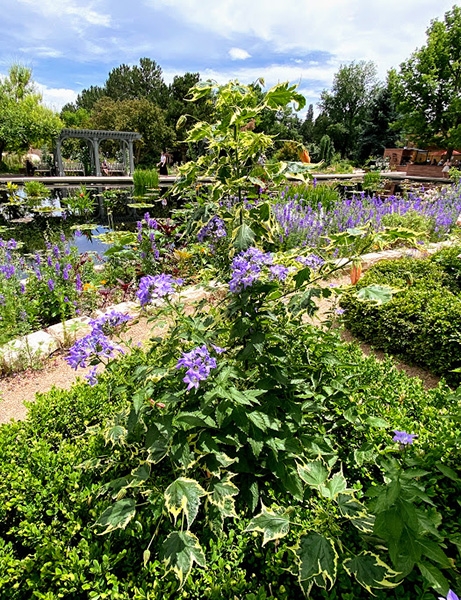 Comments
Lovely descriptive writing
This makes me salivate for my next visit to the Gardens when I can follow this "tour" of container plants. Really fun descriptions.
Add new comment