July – the month we celebrate America's independence… and efficient irrigation? While the second occasion may not get as much attention as the first, there are plenty of ways to mark Smart Irrigation Month this July.
The Irrigation Association (IA), which represents manufacturers of irrigation products, first declared July to be "Smart Irrigation Month" in 2005 to draw attention to the need to use earth's most precious resource wisely. July typically sees peak water demand in the United States – driven largely by the need to keep our thirsty landscapes alive. Coloradans head into July feeling already parched by one of the hottest Junes on record.  But the message behind Smart Irrigation Month is that you can conserve water and still maintain healthy plants.
Denver Botanic Gardens tries to lead by example when it comes to efficient irrigation and appropriate plant selection for this climate – with perhaps our best examples being the Roads Water-Smart Gardenand the Green Roof Garden at our York Street location. But all York Street gardens are managed by a central irrigation control program that utilizes weather data (like temperature, wind, humidity, etc.) and plant-specific settings to ensure that each particular area gets just the right amount of water.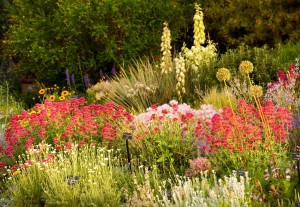 Of course, the IA would like you to celebrate Smart Irrigation Month with the purchase of this latest-and-greatest technology for your home. Most irrigation manufacturers do sell "smart" controllers that enable homeowners to manage their landscape water use in the same way larger, public sites do. If you're feeling lucky, you might even enter to win a smart controller.
While it may not give you the same thrill as watching fireworks, you still might find some beauty in efficient irrigation!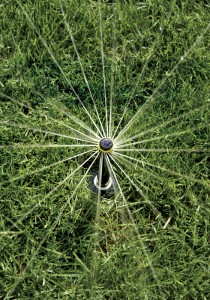 (image via)