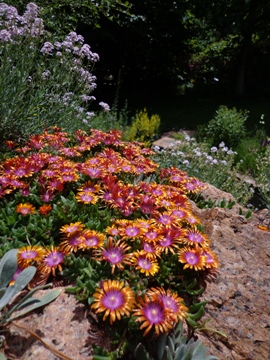 Okay, okay: this stunning new hardy ice plant is not exactly overlooked: it has in fact been a phenomenal seller across the United States and Canada this spring in its maiden launch. But we did run out of it fairly early on during our landmark plant sale a few weekends ago. The Hardy ice plants are of course poster girl plants for Plant Select, the wonderful collaboration between Denver Botanic Gardens, Colorado State University, and over 100 wholesale and retail nurseries across North America (and beyond actually!)...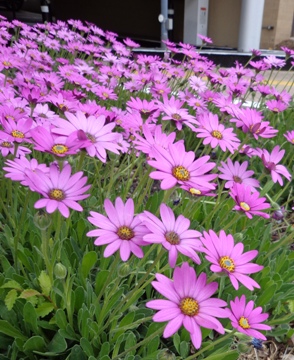 The plants promoted by Plant Select that have been neglected a bit in my opinion are the sun daisies. Osteospermum is a large genus practically restricted to southern Africa with dozens of species, most of them very tender. Plant Select introduced a bevy of these over the past decade which have incredible impact in the landscape. Purple Mountain is that unique color of rich purple that is quite rare in gardens. I have seen this thriving in Pueblo and in gardens high in the mountains,  so it is very adaptable...although it can be rather captious in some gardens. Read on!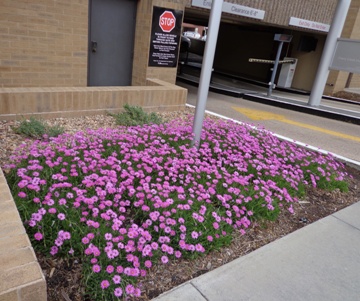 You can imagine my delight when I drove by a bank near the gardens and saw this terrific stand of Purple Mountain: SOME landscape designer out there is bold indeed! What a treat to see this plant given star treatment! Thank you indeed...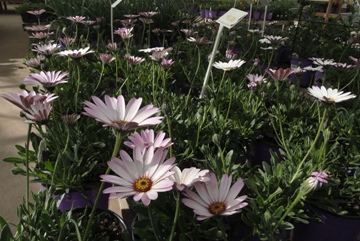 One seems to see 'Lavender Mist' a tad more frequently than the other hardy Osteospermums: it can be very decorative in full bloom, and makes a robust evergreen mat.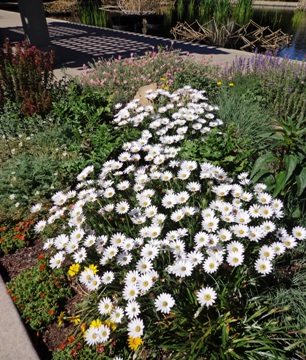 But I have rarely seen AVALANCHE TM our most recent introduction in large, industrial type plantings or even in home gardens. This is an improvement on its hardy cousins because of its much greater adaptability to various soils. It is less apt to wild in heat or die back if it dries out a little too much. More importantly, it blooms longer and more heavily through the season. This is one of several Plant Select treasures that should become universal plants used in median strips and home garden, and which have been inexplicably neglected. Do visit your local garden center and ask for this, one of the greatest new perennials to come on the market in recent years. Try it! You'll like it!