Digger welcomes you to the new Mordecai Children's Garden
August 26, 2010
Melissa Gula
, Manager of Family & Children's Programs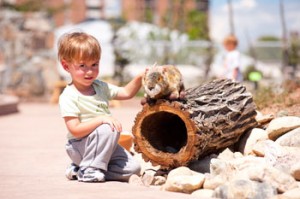 Last Monday, after several years of planning, the Mordecai Children's Garden had its grand opening. Over the past week, the new Children's Garden has been filled with the joyful sounds of imagination and discovery as children and grownups alike are reconnecting with nature. I am one happy marmot, enjoying the company of my many new friends. Melissa Gula, our Children's Garden Program Coordinator, convinced me that I need to blog to let you know about all of the fun things that are going on at this new Children's Garden. Come and join me on a journey through this amazing new garden.
The Children's Garden provides a place for our youngest visitors to put their curiosity to work as they observe plant patterns, pick up and take a close look at pinecones and seed pods, and weave natural materials to create a nest for a bald eagle. A favorite among visitors has been the Mist-ery Forest, where children have been using their muscles to dig through our giant digging pit. Also a favorite in the Mist-ery Forest is Springmelt Stream, which provides an ideal place to cool off on a hot summer day. Children of all ages have enjoyed taking off their shoes and getting their toes wet as they splash about in the cool stream water. The stream provides endless opportunities to experiment with sinking and floating objects and redirecting the flow of water.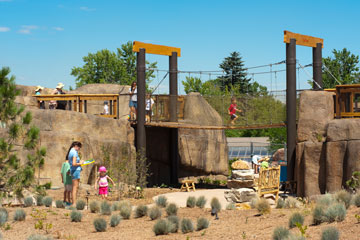 Along with these everyday adventures you find in the Children's Garden, daily drop-in programs are available for you to investigate natural processes even further. Last week, visitors had the opportunity to learn why different birds have different beaks, how a tree grows, and what the insides of a plant look like. More fun is scheduled to open late in September when Pipsqueak Pond and Sagebrush Stage will be open for exploration!
Location: York Street On top of the parking structure Hours: 9 a.m. – 5 p.m. daily Admission: Free for Members Included in regular admission for non-members