So much is happening at our Mordecai Children's Garden!
September 13, 2010
Melissa Gula
, Manager of Family & Children's Programs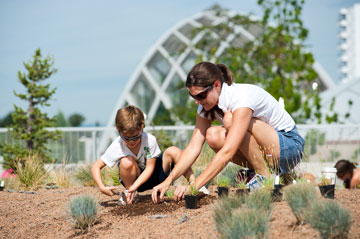 Last week was such an exciting week in the Children's Garden!  It was so nice to see so many friends come to visit the new garden.
I have been watching the final phases of the Children's Garden construction very closely.  Pipsqueak Pond is starting to take shape.  I can't wait to explore this new environment! 
I took a sneak peak of Sagebrush Stage this weekend and was delighted to see that the mini-amphitheater will be ready for stories and dress-up fun in the coming month.  You can get a preview of some of the stories you might hear on Sagebrush Stage next time you visit the Children's Garden.  A variety of garden storybooks are available by the picnic tables in the Children's Garden.  There is nothing better than enjoying a picnic lunch, resting and listening to a good story after exploring the Children's Garden.
Volunteers have been busy the last few weeks in the Children's Garden planting new things for me to explore and providing hands-on activities for visitors to enjoy.  I watched visitors this week make planting pots out of newspaper, create bird nests, and even learn more about marmots just like me! 
The Children's Garden volunteers always look like they are having so much fun with the garden's visitors.  If you are interested in volunteering in the Children's Garden, go here to learn more!
As cooler weather approaches, the Children's Garden is becoming a great place to visit all day long.  I invite you to stop by after school to explore the natural wonders of the Children's Garden.  Hope to see you soon!
Y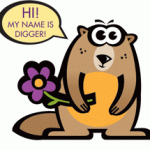 our Friend, Digger