3 Fun Ways to Add Flower Power to Galentine's Day
February 12, 2022
Bridget Molloy
, Manager, Venue Sales and Implementation
Valentine's Day is that time of year when that extra fuzzy lovey feeling starts to surround us, particularly for partners. Making time for others in an intentional way doesn't have to be romantic, though. The growing popularity of "Galentine's Day" creates the opportunity for girlfriends to connect and enjoy each other's company while including all the fun festivities of Valentine's Day. Galentine's Day originated out of the interest to be able to enjoy the holiday centered around love as a more expansive, inclusive event for anyone – not just for couples. 
Between busy schedules and COVID-19, it can be a challenge to get together with friends. Take advantage of this friend-centered twist of Valentine's Day to make time for the visits that you've been missing.  
Our Chatfield Farms private events team has some cute flower-based ideas for your Galentine's Day event. It can be as elaborate or simple as you like; all you need is to have your besties by your side. 
(We even have beautiful venues – inside and outside spaces available – for your private event at Chatfield Farms!)
Inspiration for the Perfect Galentine's Day Party:
Floral Arrangement DIY Class
Learn about the meanings of different flowers and enjoy the textures of nature during winter (although sometimes here in Colorado it may be 60 degrees in February!). Find your favorite florist or a class online (like our Flower Happy Hour), purchase some flowers and enjoy!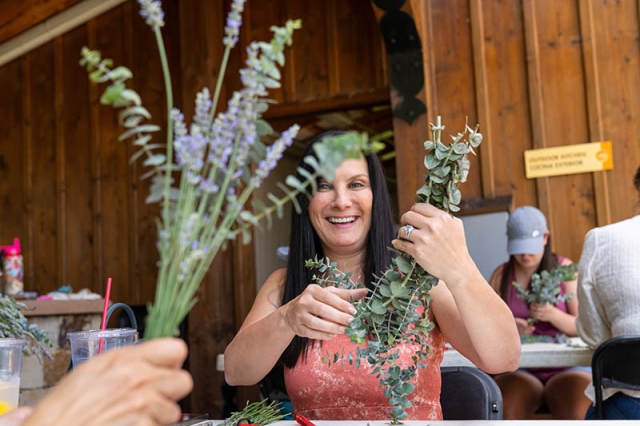 Floral Spa Party
Bring your friends out and set up your own spa party! Infuse foot tubs with hot water and sprinkle in some rose petals, soak for 10 minutes, and pat your feet dry. Moisturize with calendula cream for deep hydration and repair. Repeat with your hands and some fresh new hot water. Find inspiration with Grocery Store Herbalism, a fun class you and your gal pals can take together! 
Make a Galentine's Day Cocktail
Delight in a classic old fashioned with a floral twist: 
1/2 oz simple syrup infused with rose petals*
2 oz whiskey
2 dashes of lavender bitters
1 Bordeaux cherry
Orange peel garnish
Blend together your ingredients into a glass. Rub the orange peel over the rim of the glass for some added flavor and place the peel in your drink along with the cherry on a toothpick. 
*To make a rose petal-infused syrup, simply bring ¼ cup water to a boil and add a ¼ cup of sugar along with 1 tablespoon of dried organic rose petals. Stir until the sugar is completely dissolved and remove from heat. Allow the mixture to cool, strain the rose petals and keep your syrup in a jar stored in the refrigerator until it is ready to use.