What are They Doing in There? Behind the Scenes of Exhibition Installation
March 12, 2021
Kathryn Fay
, Assistant Manager of Exhibitions, Art Collections and Registration
In the months that the Freyer – Newman Center has been open, you may have noticed screens blocking your view through the glass doors. Exhibitions staff are often asked "What are they doing in there?" Since those screens have been recently blocking the view into the Kemper Family Gallery, we thought we would tell you about our newest exhibition, Radiant Season: Paintings by Kevin Sloan, and how it came together. 
Denver-based artist Kevin Sloan's paintings focus on the quiet and often-overlooked residents of the natural and human-created world—thistles, traffic cones, sparrows and the like—elevating them in striking acrylic paintings that evoke feelings of mystery, power and wonder. These works have been a joy to get to know as we install the exhibition, and we're excited for you to enjoy them as well.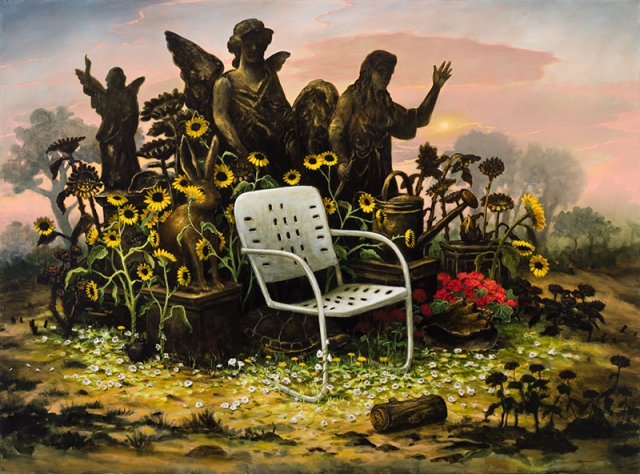 Image credit: Kevin Sloan, A View of Talisman Hill, acrylic on canvas, 2020.
When those screens went up, the previous show was taken down, carefully packaged for transport and sent back to the lender. Next, painters changed the wall colors and refreshed the gallery for the new exhibition. Once the gallery was ready, Kevin Sloan's paintings arrived. Each exhibition presents its own unique challenges, and these works are no exception. The paintings in Radiant Season range from between 18 inches square to 9 feet long and 7 feet tall—it takes time, patience, caution, and a steady-handed crew to move and hang paintings that are that big! 
We meticulously inspected each painting to ensure that it returns to its owner exactly as it arrived. This process can be challenging with large works—some of Sloan's pieces are so tall we needed a ladder to see the tops.
Each painting's place in the gallery was digitally modeled and precisely hung within 1/8th of an inch of its approved location. Once paintings were hung, labels and graphics were added and lights adjusted to highlight the radiance and drama of Sloan's paintings.
Radiant Season: Paintings by Kevin Sloan opens this Saturday—don't miss these powerful and lyrical works that invite you to observe the silent inhabitants with whom we share our world.