Vantage points in winter
January 17, 2013
Panayoti Kelaidis
, Senior Curator & Director of Outreach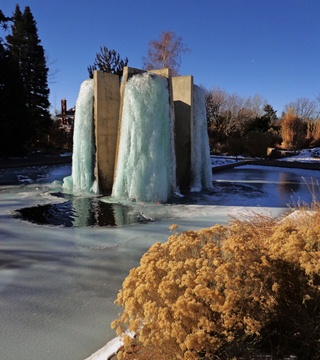 With well over 800,000 visitors a year, Denver Botanic Gardens can hardly be considered much of a secret--except maybe in winter. Visitors expect to be dazzled by Blossoms of Light, so they flock here during the holidays at twilight. Lots of people are crowding the Orangery to admire the Orchid Showcase right now, but only a handful of members and a few diehard tourists know that a stroll around the outdoor gardens in midwinter is one of Denver's secret marvels. I cannot say how many times I've felt as though I was the only person on the grounds. Those of us who are lucky enough to work in and around these 25 acres filled with dozens of artful gardens never grow jaded with the views.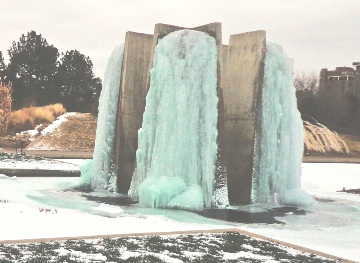 The same sculpture a week later in a different light looks so utterly different--it's amazing how dramatically a vista changes in a matter of minutes--from the golden light of early morning or dusk to the brash clarity of mid-day or the icy Antarctic light when it's overcast.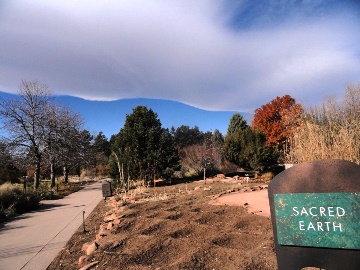 Every few days throughout the winter months, a crisp lenticular cloud perches overhead--I realize there are clouds everywhere, but somehow, the architecture of Denver Botanic Gardens seems to frame the sky in a distinct fashion. Of course, there are mercurial sculptural effects within each garden, often interacting with real sculptures--but the gardens themselves are vessels of a sort--an enormous landform sculpture, filled with not-so-dormant plants, hardscape tweaked to frame vistas and to cup the grandiloquent and ever changing steppe sky and its scudding clouds.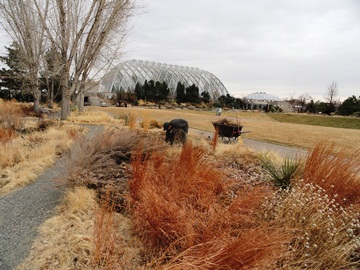 I love the way the high Rockies play peek-a-boo from various vantage points around the garden, or the captious towers of downtown Denver. Both great Japanese artists--Hokusai and Hiroshige--play with peak views in their thirty six views of Mt. Fuji (富嶽三十六景), so you can catch 36 glimpses and more of the landmark Conservatory from this or that vantage point around the Gardens. True gardeners are never dormant: this time of year we are poring over the cornucopia of seed catalogs that stuff our snail mail box, or are arrayed for us in such elegant fashion on-line....filing and organizing images from the last year, and planning your garden for the coming growing season. I know many culpable gardeners who are so impatient for spring they must go out and poke in the frozen ground with their fingers or sharp instrument to ascertain that yes, indeed, the bulb is emerging. More often than not they slice it in the process. No need to bask in the glow of the past summer, nor merely anticipate the glories of the next. Winter has her own stark beauty and now is the time to come and take advantage of our not so dormant gardens! Is that a snowdrop I caught sight of blooming by the Cheesman fence?