Thriving Gardens on the Unpredictable Front Range
September 22, 2020
Special Events
There's a saying in Colorado that if you dislike the weather, just wait five minutes—odds are, it will change. While Colorado's climate is always exciting, it can make for difficult gardening situations and challenging planning. Since the Front Range receives most of its snow after spring-blooming bulbs have already blossomed, gardens featuring these plants can be particularly challenging.
With hundreds of varieties of those bulbs on sale at our upcoming Fall Plant & Bulb Sale, we reached out to Sonya Anderson, horticulture specialist - Plant Select® & Pollinator Gardens, for some advice and tips on growing an exceptional garden in the Front Range.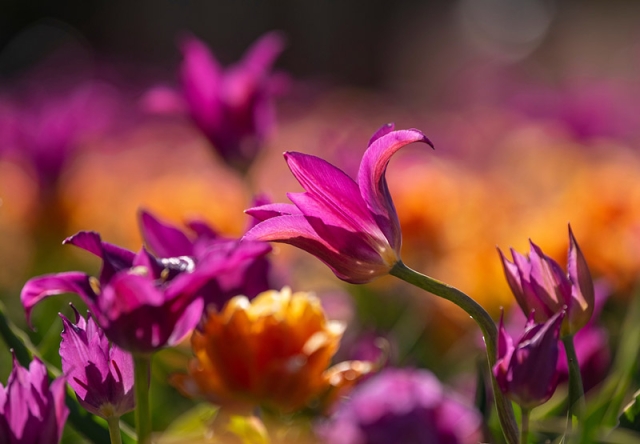 When we experience an extreme change in weather, such as the freeze earlier this September, should we expect to lose more plants in our gardens?
Yes and no.
Yes, because gardening is an art as much as a science, and there are no guarantees in the first place. Some plants in our gardens are not suited for the Front Range, and an early freeze will often or always impact them; however, when extreme weather is thrown into the mix, even the most reliable plants can also suffer.
No, because we can often look for room for improvement in our plant choices. For example, we've seen some of the plants we love perform poorly in the Front Range even during expected weather conditions. If it's challenged by our "normal" weather, its chances won't improve when the weather gets extreme. 
With Fall Plant & Bulb Sale approaching soon, what are some bulbs being offered that are especially suited for Front Range gardens?
Species tulips, which are basically wild tulips. Many wild tulips originated in Central Asia in a climate like that in the Front Range: higher elevation, hot summers, cold winters and dry. In a nutshell, they are ideal for our gardens. Tulips such as Greigii tulips (Tulipa greigii), Emperor tulips (Tulipa fosteriana) and waterlily tulips (Tulipa kaufmanniana) all hold up well and will come back year after year.
Darwin hybrid tulips, which are a cross between single late tulips and early emperor tulips. With their large colorful flowers and classic tulip shape, they hold up well in the spring weather. Just be sure to plant them in full sun with well-drained soil so they won't be too wet in the summer.
Finally, this year we're offering pre-made, themed bulb collections with some of our favorite and best-performing bulbs. Some of the themes include: Pollinators, North American Natives and Staff Favorites. These are sure to give your garden the lively pop of color for the spring season.
This year, Fall Plant & Bulb Sale has moved online. The online store will be open September 25-27 with in-person pickup taking place October 1-3. Be sure to place your order for your favorite bulbs before they all sell out, and get a head start on your spring garden!