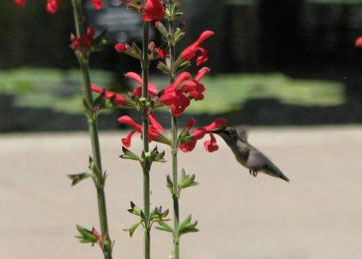 Who isn't entranced by hummingbirds? This picture was taken and e-mailed to me recently by a visiting nurseryman, Erbin Baumgardner, last month in our new Darlene Radichel Plant Select Garden. You can still find hummingbirds buzzing the various Salvias and Agastaches in this garden almost any day of the week...and I've been thinking.
I remember that one would see hummingbirds fleetingly in spring as they migrated to the mountains and again in fall when they migrate again to warmer climes. But during the great drought years of 1999-2003 one began to see hummingbirds midsummer when the diminished flowers in the parched hills gave out. Clever hummers realized that there was nectar to be found in the Front Range cities, mostly in plants recently introduced to horticulture by Plant Select.
An interesting and unintended consequence of this program has been to provide a smorgasbord of plants terribly attractive to hummingbirds: red birds in a tree (Scrophularia macrantha), almost all the Plant Select Salvias (Salvia darcyi in particular, but also S. greggii 'Furman's Red' and 'Wild Thing'), Zauschneria garrettii 'Orange Carpet' and especially the tremendous palette of southwestern Agastache (aurantiaca, cana, rupestris and multifarious hybrids) which were first introduced and promulgated by this program. These have all not just transformed our xeriscapes with their brilliant reds and oranges, they have provided a steady and reliable food source on the Plains for several of our most entrancing native bird species. Is that cool or what?
I recommend planting both Salvias and Agastaches in the spring, but many more floral gems will be available at our annual Fall Plant and Bulb Sale this Saturday, Sept. 25 at our York Street site. [The sale will be located on our upper parking deck between Josephine and York. Admission is free. Member-only shopping is 8-9 a.m., open to the public from 9 a.m. - 1 p.m.]  Be there or be square!