Shopping for Succulents at Spring Plant Sale? Here's How to Not Kill Them
May 6, 2019
Special Events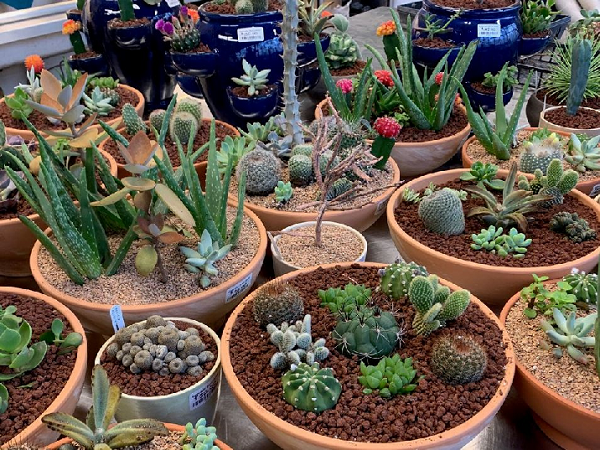 There is, perhaps, no group of plants more in vogue right now than succulents. These stunning arrangements of greens, dusty blues, purples and pinks are found not only in pots but on cakes, cookies and even in hairstyles. The Gardens even has evening workshops on Botanical Jewelry: Wearable Succulents on Tuesday, May 21 and Tuesday, July 23! For many, succulents are a great first step into gardening: they are beautiful, low-maintenance and water-saving plants that will survive for many seasons if cared for properly.
At our annual Spring Plant Sale, the horticulturists in the Specialty Succulents division will offer a wide variety of succulents and cacti. But before you load up your cart this weekend, they also want to make sure you are set up for success to keep your plants healthy and thriving.
Light Succulents and cacti need sunlight; a dark house or apartment won't do. However, a full day of direct sunlight is not necessary – a space with bright but indirect sunlight, or a sunny windowsill or porch, can sustain these plants.
Water These plants do not need a lot of water. For most species, watering once a month or less will suffice. Use your fingers to feel the soil moisture before watering again. If it feels moist, don't water! The soil should be allowed to fully dry out between waterings.
Drainage Make sure you plant your succulents in a pot with a drainage hole. Water left sitting in the bottom of a pot can create anaerobic or fungal conditions and can "rot out" the roots of the succulents.
Temperature The plants sold at the Specialty Succulents division are frost tender and will be killed by freezing temperatures. They can live outside during the summer, but they must be brought inside before the first autumn frost. After the last spring frost, transition them slowly back to full outdoor sun. Start by putting them in a shaded or partly-shaded spot for a week or two, then slowly move them into their full-sun position.
Read Up! Read about the plants you buy. The general category of "succulents and cacti" is very broad and consists of thousands of species of plants all with different wants and needs. A quick browser search for the varieties you purchase goes a long way in helping you keep your plants healthy.
Whether you are looking for a single succulent for a windowsill or a pre-potted arrangement of hand-selected plants, stop by Specialty Succulents in the Orangery during Spring Plant Sale. Not only will you find high quality cacti and succulents, but you can get even more expert advice on how to care for them.
New this Year! Check out our Collector's Corner, featuring rare and unique cacti and succulents. Here are just a few of the varieties we have waiting for you in the Collector's Corner:
Avonia quinaria ssp. alstonii – a succulent native to Southern Africa that features a thick caudex with silvery-green finger-like foliage
Albuca spiralis – a succulent bulb in the asparagus family from South Africa with corkscrew foliage
Aeonium arboretum var. atropurpureum Crested Form – a uniquely mutated crested form (rather than rosette) of the common Aeonium
Admission to Spring Plant Sale and the Gardens is free on Friday, May 10 from 8 a.m. – 6 p.m. and on Saturday, May 11 from 8 a.m. – 5 p.m. Tickets are required for the Plant Sale Preview Party on Thursday, May 9. Get here early to get the best pick of the plants, and don't forget to bring a wagon to haul them around! Here is more information about Spring Plant Sale, including a catalog of individual species and cultivars available at the sale.