Read, Wonder, Hope, Inspire
February 18, 2022
Allaina Wallace
, Head Librarian
The last couple of years have given many of us time for reflection. We have reconsidered where and how we spend our energy and time. For some there has been an opportunity to learn new things, to grow and change. Others have tried to go with the flow and get through each day as it comes. There are no clear agreed upon rules on how to get through difficult times. Perhaps, having grace and patience with each other is a good start. 
At the Helen Fowler Library, we strive to collect and make available books and other materials that connect all people with plants. This Black History Month, we have curated a list of titles in our collection, for children and adults, that highlight the rich history of African Americans' connection to the land, food, nature, gardening and agriculture. Unfortunately, much of Black history that has been taught or highlighted tends to focus on the trauma and not always the triumph, but understanding the past is crucial in planting seeds for future change. We hope you visit the library to check out some of these titles, learn something new, and reflect on your own history.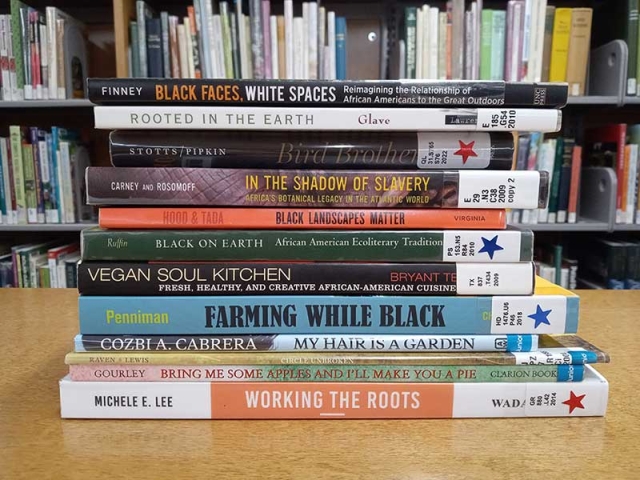 Search the library collections online or visit in person. The library is located on the first floor of the Freyer – Newman Center for Science, Art and Education. No appointment or entrance fee is required to visit. Become a Gardens member to check out these and other materials.
Adults and Young Adults
"Bird Brother: A Falconer's Journey and the Healing Power of Wildlife" by Rodney Stotts
"Black Faces, White Spaces" by Carolyn Finney
"Black Landscapes Matter" edited by Walter Hood and Grace Mitchell Tada
"Black on Earth: African American Ecoliterary Traditions" by Kimberly N. Ruffin
"Farming While Black: Soul Fire Farm's Practical Guide to Liberation on the Land" by Leah Penniman
"High on the Hog: A Culinary Journey from Africa to America" by Jessica B. Harris 
"In the Shadow of Slavery: Africa's Botanical Legacy in the Atlantic World" by Judith A. Carney and Richard Nicholas Rosomoff
"Rooted in the Earth: Reclaiming the African American Environmental Heritage" by Dianne D. Glave
"Vegan Soul Kitchen: Fresh, Healthy, and Creative African-American Cuisine" by Bryant Terry
"Working the Roots: Over 400 Years of Traditional African-American Healing" by Michele E. Lee
Children's Books
"Bring Me Some Apples and I'll Make You a Pie: A Story About Edna Lewis" by Robbin Gourley
"Circle Unbroken" by Margot Theis Raven
"Harlem Grown: How One Big Idea Transformed a Neighborhood" by Tony Hillery
"In the Garden with Dr. Carver" by Susan Grigsby
"Layla's Happiness" by Mariahadessa Ekere Tallie
"Lola Plants a Garden" by Anna McQuinn
"My Hair is a Garden" by Cozbi A. Cabrera