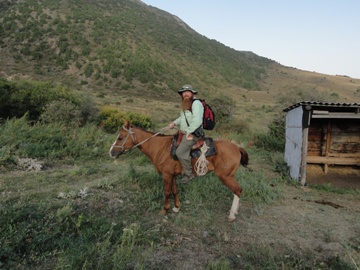 I realize it's a tad hard to convince our colleagues that we were hard at work when they see a picture of Mike Bone on a trusty steed, but believe me, riding that horse on the Djabagly Nature Reserve in Southern Kazakhstan turned out to be a good deal more exciting than we bargained on. It's been two weeks since Mike and I returned from an extraordinary 3 weeks traveling over much of Southern and far Eastern Kazakhstan. Those of you whose knowledge of that amazing country comes from Borat would be startled by the reality: the ninth largest country on earth (the size of half of Europe) is bustling, practically exploding economically and although the Kazakh are largely Islamic, women in Kazakhstan appear to be fully empowered. Young women in fashionable Western clothing could be seen strolling boldly through villages and towns day and night, grannies with grandkids can be found hitchiking and vodka and hard liquor was ubiquitous at restaurants and openly sipped by all and sundry. Fundamentalism has yet to cast its puritanical veil over this robust nation.
Great Fritillary on Azure Teasel (Dipsacus azureus)
Politics were not the reason we came to Kazakhstan this year. Last year Plant Select sent the two of us to reconnoiter the Altai and Tien Shan, and we returned with enough tales and pictures to inspire a collecting trip this year. August and September turned out to be the perfect season for the widest spectrum of germplasm and we were surprised to find many plants still in bloom. This dazzling teasel (which did not seem to have the weedy proclivities of its invasive congeners) was one of many highlights of the trip. It may take many years to fully assess this and other collections to be sure they will not grow out of bounds in gardens, and that they do possess what it takes to be Plant Select worthy! This amazing plant was always sporting one or more butterflies, often this largest of Fritillaries. I suspect it will be attractive to American butterflies as well!
Campanula kapusii
As a lover of rock gardens, finding little treasures that cling to rocks is always a highlight of a hike. This unusual campanula grew at almost 11,000' on limestone cliffs on the Upepr Kaindy pass in Djabagly, a spot of enormous biodiversity. Where to begin to describe the variety of plants and the majesty of soaring peaks and feathered steppe full of unusual bulbs and the quiddity of a country so much like Colorado, and yet twelve time zones away in either direction!
Allium fedtchenkoanum
Kazakhstan may be the very center of the genus Allium: we often found four or five species growing in the same vicinity, and many dozens of species over the course of our trip. Onions come in all shapes, sizes and habits: this alpine cousin to Chives is quite tasty, although it is such a truly lovely shade of golden yellow that I would much prefer to grow than eat it, wouldn't you?
We are deeply grateful to Plant Select and the Gardens for making this trip possible. But without the guidance of our Kazakhstan guides, botanists and hosts across that great country we could never have seen literally thousands of kinds of plants in all manner of habitats in those almost mythical mountains: the Karatau, the Tien Shan and the Altai.