Peru Discovery - Chapter 5
April 5, 2012
Nick Snakenberg
, Curator of Tropical Collections and Associate Director of Horticulture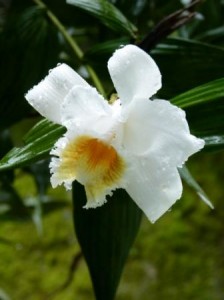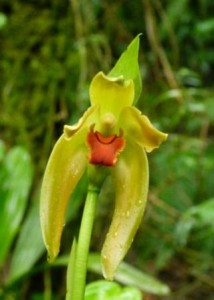 For several travelers in our group, today is the day we've been looking forward to since we first signed up for this trip.  Today we will receive a guided tour of the Inkaterra Machu Picchu Pueblo Hotel grounds to see the hundreds of orchid plants and flowers being tended by the staff. Since 1975, Inkaterra has been using profits from sustainable tourism projects to fund rescue and preservation of Peru's cultural and natural resources.  The Machu Picchu Pueblo Hotel opened in the early 1990's and was envisioned as a village in a botanical setting.  Located adjacent to the Machu Picchu Historical Sanctuary, the hotel grounds are home to some 370 plus species of orchids.  The sanctuary covers over 80,000 acres and spans a number of different biological life zones – the largest zone being the cloud forest. The area we visited can receive over 90 inches of rain per year and when it is not raining, there is still relatively high humidity.  This, combined with the cool night temperatures, makes for a perfect environment for many orchid species.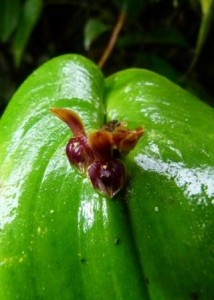 We began our orchid experience with an orientation lecture from Carmen Soto, a biologist working on Inkaterra's conservation efforts.  After an overview of the areas orchids, and a brief discussion of the birds and butterflies of the region, we donned our rain jackets, grabbed a magnifying glass and set out to enjoy the orchid blooms.  Standing in the rain to look at tiny orchid flowers might seem a little extreme, but after flying several thousand miles to look at orchids, we weren't going to let a few raindrops get in our way. When most people think of orchids, they probably think of Phalaenopsis flowers which can be found in any good garden center and even in the local grocery store.  Or they may think of large Cattleya flowers – a staple in the corsage world.  Most of the flowers we were looking for were quite small – many less than one centimeter wide – but there were still many large and showy flowers to enjoy as well.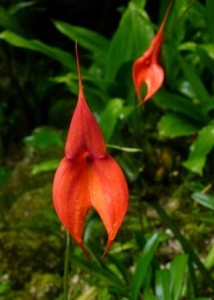 One of the orchid flowers the Machu Picchu area is most known for is Masdevallia veitchiana, an orange-red beauty known locally as Waqanki.  According to Inca legend (and the orchid field guide published by the Machu Picchu Pueblo Hotel), "In the kingdom of the Andes there was a beautiful young princess. She fell in love with a brave and handsome warrior of the Inca.  Once her father, the Inca, knew of the love affair, he prohibited any relationship between them because the princess was destined for the Sun God.  When the princess learned of his decision, she ran over the Andes, crying for her forbidden love and was turned into the beautiful "Waqanki" flower. So, each time the warrior found this flower in the Andes, he also would cry remembering his lost love."  We were fortunate to see this plant in bloom at Machu Picchu as well as in several locations at the hotel, but as far as I know, no one was brought to tears. By my count,  in the three hours we stood in the rain to look at orchid flowers, we saw nearly 50 different species.  There are few (if any) other places on earth where you can so conveniently witness this diversity of orchid flowers growing in a natural environment.  Despite the rain, we felt lucky to have had this opportunity.  We also felt lucky that we had warm dry rooms and a wonderful meal in the hotel restaurant to look forward to.