Harbingers of spring
April 2, 2012
Panayoti Kelaidis
, Senior Curator & Director of Outreach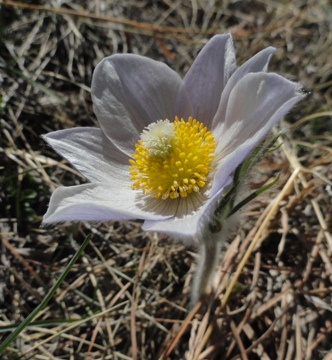 Denver owes a great debt to Saco DeBoer, a Dutchman who designed many of our parks and boulevards and planted the very heart of old Denver: he describes in his classic book "Around the Seasons in Denver" the many flower rituals that everyone in the charming town that Denver was once practiced like seeking the first flowers and picnicking en masse beneath the flowering crabapples. One ritual I follow religiously is to seek out the harbingers of Spring: the first flowers that grace our prairies and foothills: Queen among these is the pasqueflower!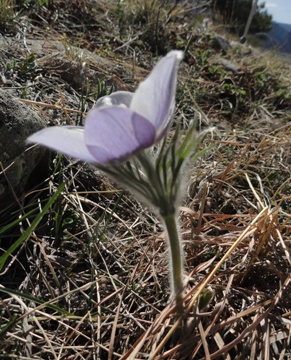 Last week I hosted Fritz Kummert, one of Austria's foremost horticulturists who was here to do a presentation. Fritz wanted to see pasqueflowers, and I was shocked to find most had finished blooming at one of my favorite haunts near Boulder: usually peak bloom is mid April! We fortunately found a few fresh blossoms, which I am sharing with you. My slide files are filled with pictures of pasqueflowers: we are so desperate for flower color this time of year!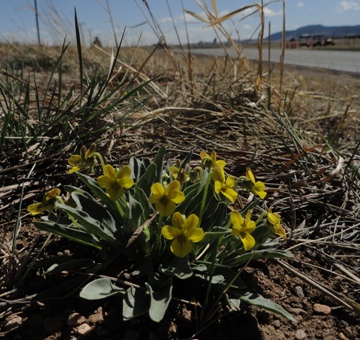 Growing nearby were incredibly small flowered specimens of Nuttall's violet, one of my favorites: last summer I found huge clumps of these in full bloom in the middle of July on top of the Flattops! What a contrast this year! Violets tend to be either weedy in gardens or rather hard to grow...our early spring beauty, alas, is in the latter category!
I have a trough at my house filled with dozens of easter daisies that I have grown for decades: for me it isn't spring until these tuffets of impossibly white beauty come to bloom (sometimes precociously in February). Although I have grown them from time to time in my rock garden, they seem to much prefer growing in a large container. Everyone should have a trough with easter daisies! They too are quickly going over in our early summer heat of this past weekend! But like the pasqueflowers and violets, you can stalk them all the way to timberline if you know where to look over the next four months!
Fritz Kummert photographing a snowball cactus with Lakewood sneaking into the picture
That's Fritz photographing a snowball cactus, an incredibly beautiful variation on the mountain ball cactus once common in Jefferson county. Alas! much of its range now has been replaced by subdivisions, and some of the last colonies were eliminated by collectors. But a few colonies still linger. I finish with a closeup of this very choice local gem, the snowball cactus: the very sweet flowers are intensely fragrant, by the way (like so many early flowers they must use every ruse to flag down the sparse early insects)...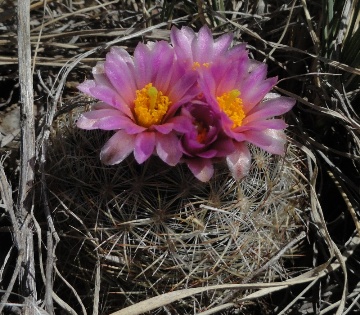 Exotic flowers from the Eastern hemisphere,  like crocuses, adonis, hellebores, forsythias and magnolias have been blooming for weeks and months. Our natives are patient and somewhat dilatory: they know about late cold snaps and our heavy spring snows, so the peak in our native bloom is much later in spring and summer. But these bright harbingers set a high standard of beauty for the coming growing season: bring them on!