Passing of a friend: Andrew Pierce
September 17, 2011
Panayoti Kelaidis
, Senior Curator & Director of Outreach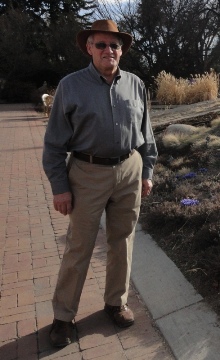 Andrew Pierce, past Director, Assistant Director, Propagator and Conservatory Superintendent at Denver Botanic Gardens, passed away early this morning (Saturday, September 17, 2011), at his home with his family around him.
Andrew was well known and universally loved and respected by his peers throughout the Rocky Mountain Region and beyond. He was born in Kent, England and graduated from the Royal Botanic Gardens at Kew's horticultural training program, and was always a loyal "Kewite." He brought the rigor and intellectual prowess of that training to Denver Botanic Gardens in the mid-1970s when he was instrumental in helping transform this still fledgling institution that had little true botanical gardening going on in it  into what we enjoy today.
Hired initially to oversee the Conservatory as Superintendent, he raised the production standards and scope of the greenhouse complex and propagation ranges. He instituted our Index Seminum, and later designed (along with Lainie Jackson) our very first Perennial Border, accelerating our transformation from a Victorian Carpet bedding showcase to true botanical displays and collections.
Andrew possessed a truly astonishing range of knowledge and experience. I have ever met anyone who had a broader knowledge of the Plant Kingdom. Show him a twig of a tropical tree, an obscure herbaceous perennial cultivar or a high alpine cushion plant and he would likely know the botanical name and a good deal of scientific lore about it. He loved people, and was a true friend and mentor to many of us.
I doubt that I would have stayed at Denver Botanic Gardens my first few challenging years were it not for his attentiveness, his guidance and above all his warmth of heart and irrepressible humor. I know many others would say the same.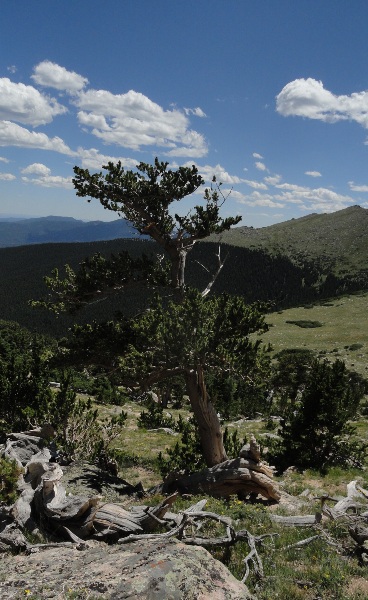 Perhaps one of Andrew's greatest and unsung legacies will be  Denver Botanic Gardens' presence on Mount Goliath. It was he who first took me and many others down that trail, who trained the first volunteer docents and who championed that magnificent locale. I do not believe that Mount Goliath would be what it is today without his initial inspiration.
I know I shall think of Andrew frequently throughout the rest of my life--when I admire a glorious border in bloom, or see the first crocuses in my rock garden. And when we all descend through that fragrant forest of ancient bristlecone pines on Mount Goliath, we shall certainly feel his kind and gentle presence striding almost palpably nearby.