The following was written by Mary Elliman, a member of this year's Plant Preview Party committee.
Planning to attend the Spring Plant Sale on May 10 and 11?  Make the most of your trip by following these nine tips from a Spring Plant Sale pro.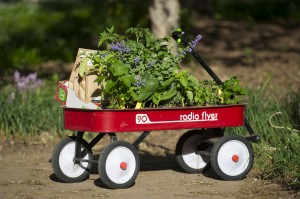 1. Bring your own wagon. It's by far the easiest way to get around the sale quickly and efficiently. There are great lightweight, foldable carts these days. Or you can, like me, drag the huge heavy wagon you bought from Smith and Hawken back in the day. I am also searching for a good way to create layers in the cart, so I can fit more plants in it. Obviously, I have a problem.
2. Come early. Don't be discouraged by a long line. Once the gate is open, it moves in quickly. If you absolutely can't come early, there will probably be plenty of plants left, just not that once in a lifetime special Grown at the Gardens plant that you will see in all of the carts of the people who got there early.
3. Know what you need. Now this is a dicey question for most gardeners. After all, what is "need"…really… On my gardening continuum, "need" takes a definite second to "want", is even further back from "that's very cool, I wonder where I can fit it in" and straggles in a distant third from "I have to have that plant in my garden!" But things like shade or sun, or steep hillside or marshy bog (does that exist in Colorado?), even the neighborhood in which you live in town, are helpful clues for the people in the know.
4. Know where to go. Consult your map. If you are a container gardener with not much space, you might want to try the annuals and herbs section. If you are a vegetable gardener, obviously that is where you would go first. As my tastes have evolved, I tend to hit the Grown at the Gardens plants first, because I know that the horticulturists at the Gardens are on the cutting edge of what to grow in our unique climate. Then I head for the natives. The more I garden, the more I lean away from the traditional annuals and perennials and look for the plants that already have our hot, windy (at least where I live) arid climate down pat. But, go ahead, plant that delphinium. Torture yourself.
5. Know who to talk to. There are lots of volunteers at Spring Plant Sale who are gardeners, just like you. They can help direct you to where you want to go and are very knowledgeable about what is around their section. But if you want MY advice, seek out a Denver Botanic Gardens horticulturist in each division. Ask them what they are interested in, what's new, what's exciting. This is their profession. They know the score. I love that.
6. Talk to the other shoppers around you. They share your interests. They might know more than you do. Shocking as that may seem. (I always look in everyone's carts to see what I might have missed.)
7. Once your plant-shopping itch has been scratched (and be sure not to stop until it fully is!), check out, put your plants in the valet area and then STOP. Look around. You are in one of the most beautiful and bewitching public spaces in Denver. Stroll down the O'Fallon Perennial Walk and into the Romantic Garden, get some ideas for your own backyard. If you are into natives, go back to the Roads Water-Smart Garden or seek out the Rock Alpine or Prairie Gardens. If you need some Zen time, hit the Japanese Garden and the new Bonsai Pavilion and Tea Garden.
8. Take a minute to give thanks. You live in Colorado. Isn't that grand?
9. Resolve to come back to this civic treasure. Denver Botanic Gardens consistently ranks in the top ten botanic gardens in the country. You have something to learn from this place in every month of the season. Support it.