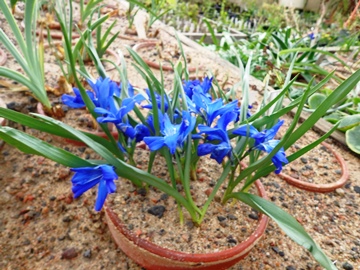 Chilean blue crocus (Tecophilaea cyanocrocus)
This should get your attention: after flying from Denver to Chicago, Chicago to Copenhagen, Copenhagen to Gothenburg, Sweden--we found ourselves in Eskilsby (a village not far from the airport) where we were driven to Peter Korn's amazing garden--and this was one of the first plants greeting us our first morning! Long thought extinct in the wild (it has recently been rediscovered), the dazzling blue Chilean "crocus" (which it is not) is one of the many success stories of horticulture--where rare plants have been propagated and even used to repopulate the old habitats!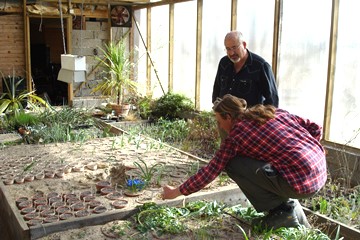 In Peter Korn's bulb house
Here you can see the same plant in habitat--in front of Peter--in his special greenhouse for growing bulbs.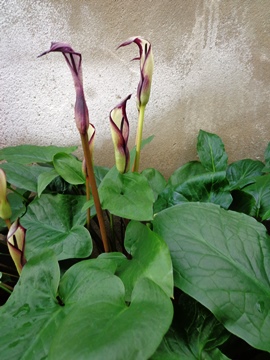 Arum korolkowii
This was one of my favorites in the bulb house--an aroid from central Anatolia which I am growing as well. I hope my form is half as good as this one!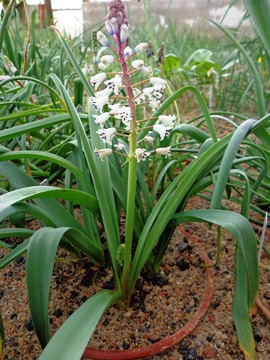 Bellevalia sp. in the bulb house
Dozens of bulbous irises, fritillaries, narcissi and many more bulbs were blooming: I was enchanted with this Bellevalia--a genus allied to grape hyacinths.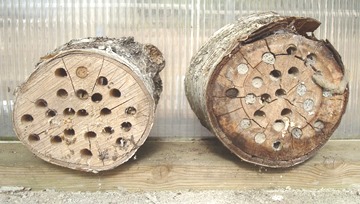 Logs designed as beneficial insect hotel
Even the practical things around Peter's garden are attractive--he uses these logs to house beneficial insects that help keep the bulb collection clean.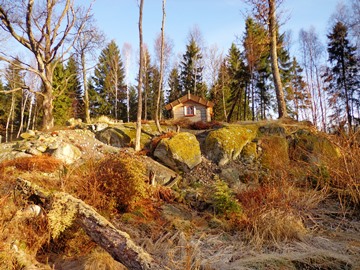 Cottage at top of Peter Korn's garden
The garden is vast: these are just a few glimpses of some of it. There are actually many dozens of plants coming into bloom--but by May it is a blaze of color. We intend to revisit in a few weeks and see the progress of color in the alpines here...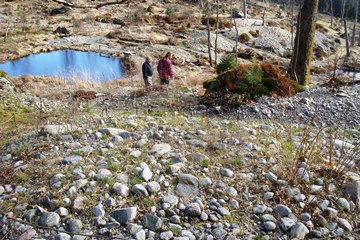 View of Peter Korn's rock garden from above
But the sculptural forms of the landscape are beautiful in their own right. Much of this area was covered with dense forest before Peter began to clear it for the garden. It now has the rugged look of alpine tundra. It has been carefully crafted so that alpine plants can grow here much as they would in "nature" (which this closely approximates)..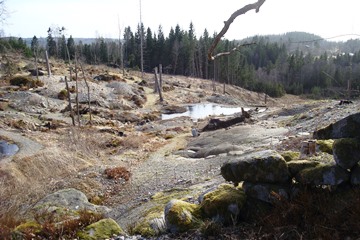 Another shot of alpine tarn in Peter Korn's garden
If one didn't know better, one might easily think this was a picture taken on an alpine summit!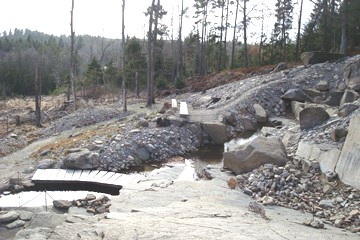 View of Peter Korn's rock garden
Pathways and benches are provided throughout to make it accessible to the many visitors who come to admire the views and the throngs off alpine flowers.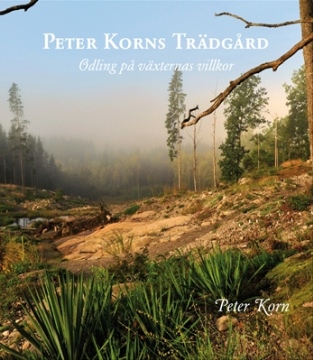 Peter Korn's book on his garden: soon to be published in English
Peter has written a book describing the philosophy behind this garden, full of beautiful pictures of plants in the wild and in his garden. He has had this translated, and it will be published in the next few weeks...
I joined the director of the Botanic Garden in Tromsö, Norway (the northernmost botanic garden in the world) and Kit Strange, horticulturist at Royal Botanic Garden, Kew to speak as part of Peter's biannual conference he organizes in the nearby village. I have some more pictures from Peter's and greater discussion at another website...
This is the beginning of a several week adventure I will be sharing with members: visiting Scandinavia in springtime is a great luxury and pleasure--and soon we are headed to Germany in pursuit of even more beautiful gardens, following spring in the European heartland!