Lemonade gardening...
April 20, 2013
Panayoti Kelaidis
, Senior Curator & Director of Outreach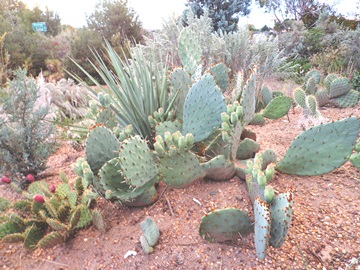 Opuntia cycloides at my house last fall Since there will be no lilacs breeding out of this year's dead land (check the last paragraph of this Blog if you don't recognize the reference!) we must make lemonade out of our lemons! And succulents RULE! Several groups of plants are coming through this rather horrific winter in great form: almost all native plants, alpines and succulents--especially cacti, agaves and yuccas seem not to have been fazed at all by the catastrophic late spring frosts that have laid so many flowering trees, shrubs and bulbs low.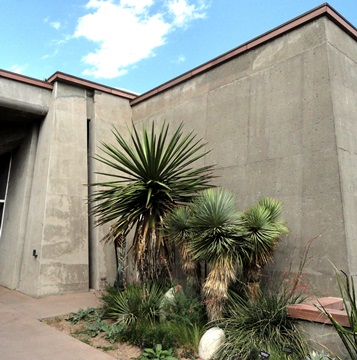 Yuccarama (Yucca faxoniana and Y. thompsoniana) I doubt there are many visitors to Denver Botanic Gardens (and literally millions of people have walked by these) who haven't noticed the sculptural forms of Yuccas outside our maine Education building. When Dan Johnson first had these delivered over a decade ago from Mountain States Nursery--I was sure they would be the most expensive annuals we had every planted: I was wrong on both counts--they were a gift so they cost nothing. And they have been resoundingly, gloriously perennial! And this year is no exception. They are our permanent sculptural exhibit! And they laughted at this spring's shenanigans...
Opuntia engelmannii in the Rock Alpine Garden The "average person" is probably oblivious to the enormity of the damage inflicted last week by the 7F low with little snow: I think this is the greatest spring damage I have seen inflicted in my 34 springs at Denver Botanic Gardens. So I am focusing more than ever on that graceful ballet--as the opuntias all over the gardens gain color and turgidity over the next month or two and build to their spectacular bloom season: Looking at these and our rock garden and native gardens, I think...you know: they look good as ever! P.S. Afterthought: Several friends of mine have been quoting T.S. Eliot's Wasteland, which I have hyperlinked for your convenience...which many of us philologists puzzled over as youngsters in school: this long poem opened the floodgates to gnomic, mostly incomprehensible modernist "poetry" that (like Marianne Moore) I too dislike...the first sentence of which I have filched for my starter. I sort of like Eliot's most famous poem--although I hate what it has inspired subsequently. Give me Keats or Auden or Browning any day!