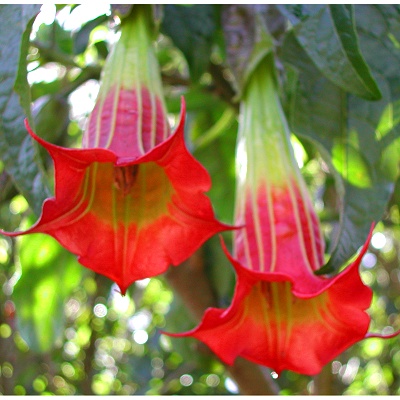 Recently, we planted a new addition in the Boettcher Tropical Conservatory, Brugmansia sanguinea, or the 'red angel's trumpet.' This crimson-flowered tree will surely be a treat when in bloom. Brugmansia is a genus of trees and shrubs consisting of only seven species. These pendulous-flowered beauties are members of the Solanaceae family, commonly known as the nightshade or potato family, and this is seen through the flowers. Yes, it is true, that Brugmansias are related to potatoes and tomatoes, although you would not want to eat brugmansia. Many members of the Solanaceae family are toxic and Brugmansia is no exception.
Brugmansia sanguinea hails from the Andes and is native from Colombia to Peru and Bolivia. The genus Brugmansia is broken in two sections: section Brugmansia, the warm growing brugmansia, and section Sphaerocarpium, the cool growing brugmansia. B. sanguinea lives up to its classification as a cool-grower, and can withstand short frosts, although it doesn't like temperatures under 32 degrees Fahrenheit for prolonged amounts of time.
Brugmansia trees and shrubs make great houseplants, and many colorful hybrids exist that are readily available through a variety of nurseries. They may be kept in a pot on your porch during the summer and brought in for the winter. If you don't have anywhere to store the potted plant during the winter months, you may prune it and store it bare-root in a cool, dry place and repot in the spring.
This tropical gem is definitely worth a stroll through the Boettcher Tropical Conservatory, even if not in flower, but keep your fingers crossed as it has been putting out more blooms lately. You will find the plant towards the West end of the conservatory just past the pandanus tree. Hope to see you soon!
For more information on growing Brugmansia sanguinea, click here to visit the "Strange Wonderful Things" Web site.