Hello Friends!
What a wonderful winter I had snuggled up in the Mordecai Children's Garden waiting for the first signs of spring. I knew it was time to come out of hibernation when I felt the warm sunshine and saw little flowers popping up by Pipsqueak Pond!
I am excited that my friends will be visiting the Children's Garden again this weekend. When you stop by the Children's Garden make sure to keep an eye out for the little signs that spring is right around the corner. The Children's Garden is amazing this time of year. Every day I discover a new bud ready to bloom, birds getting ready to make nests, and new sprouting green leaves.
The Children's Garden is open today for members only, and tomorrow to everyone.  Stop by this weekend and enjoy your favorite Children's Garden activities.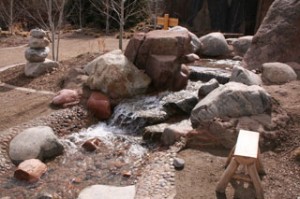 Build homes for my mountain friends on top of Marmot Mountain, dig for gold in the Mist-ery Forest, and race pinecones down Springmelt Stream.
You will even discover new fun in the Children's Garden! Stop by the Morrison Discovery Greenhouse and discover some of my favorite plants with your five senses. Don't forget to check out the future home of the Home Harvest Garden where you will have the opportunity to help tend to my vegetable garden and even sample some of my favorite garden treats!
Hope to see you soon!
Your Friend,
Digger