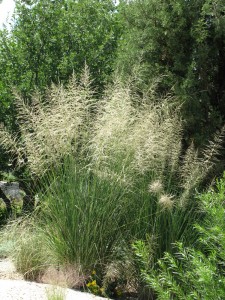 Is it a coincidence that Walt Whitman named his revolutionary collection of poetry "Leaves of Grass"? Grass is the dominant vegetation in our region, and ornamental grasses have revolutionized horticulture across America in recent decades. If I had to pick a favorite grass, right now I would have to say that Giant Sacaton (Sporobolus wrightii) jostles at the top of my list with Indian Grass (Sorghastrum nutans) and a dozen or more other contenders.
Giant Sacaton is native to the higher reaches of the Chihuahua desert--usually found on outwash mesas and slopes in the mountains where it does get the summer monsoon and about as much precipitation as Denver. Here it thrives in the lightly irrigated xeriscape as well as the utterly dry garden. This picture shows a specimen perched between the Rock Alpine Garden and Plains Garden, but you will find Giant Sacaton in the Watersmart Garden and Wildflower Treasures as well. As the name suggests, it gets quite tall, but a single plant is narrow enough to find a spot in anyone's garden. Plant four or five together and you get a behemoth like the monster in Wildflower Treasures that gleams and shines and explodes with interest and beauty right now and throughout the winter months. Not for the faint of heart!
Dan Johnson, our indefatigable Curator of Native Plants (and master of exotic plants as well--don't be fooled by his title!) introduced this plant in the 1990's, about the time that Los Lunas Plant Materials Center in New Mexico released a virtually identical cultivar. Plant Select has championed this most amazing native grass, and I have waited to see some of the endless plantings of 'Karl Foerster' give way to this much more xeric, graceful and beautiful native. Come stroll through York Street or Centennial in the coming weeks and I guarantee that you will be enchanted with these underappreciated and under utilized limpid ladies of linearity (and alliteration!). Power to the grasses!