The Importance of Herbarium Volunteers
January 25, 2021
Margo Yousse
, Collections Assistant
Volunteers have always been integral to Denver Botanic Gardens' success. In fact, our natural history collections are the result of hard work by devoted volunteers. Kathryn Kalmbach and several other volunteers from the Colorado Forestry and Horticulture Association started collecting pressings of both native and cultivated plants for their herbarium in 1943. The collection was moved to the Gardens and formally dedicated as the Kathryn Kalmbach Herbarium in November 1960. The Sam Mitchel Herbarium of Fungi is named for Dr. Duane "Sam" Mitchel, a medical internist in Denver who had a collection of mushrooms from Colorado. His fungal herbarium came to the Gardens in the 1960s.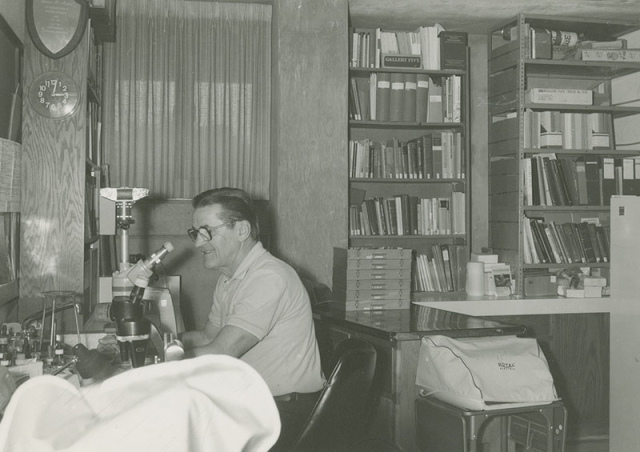 Dr. Duane "Sam" Mitchel working on his microscope in the old herbarium space.
In the early days, Kathryn, Sam and other volunteers were the main contributors of specimens to the collections. They identified, processed and accessioned all their incoming plants and fungi. Over time, the Research & Conservation Department was established to oversee the herbaria as the Gardens was able to hire on some of the herbarium volunteers as staff. Now, the Research & Conservation Department is even more expanded, but volunteers still make up a huge portion of the processing effort for the collection of nearly 100,000 specimens.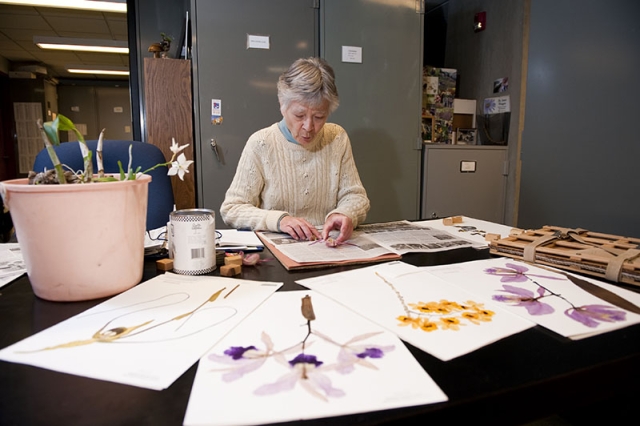 Long-time volunteer Eleanor Von Bargen preparing orchid specimens for inclusion in the herbarium when it was located in the Boettcher Memorial Center.
In fall 2019 we stopped large-scale herbarium processing in preparation for the collections move into the new Freyer – Newman Center for Science, Art and Education. It was the first time that the herbaria were effectively closed to volunteers for any extended period. Volunteers were going to be invited back right after the move, however, while the collections move went smoothly, the return of herbarium volunteers was dealt another blow – a global pandemic. Following safety guidelines, we had to curtail all volunteer activities in the herbarium.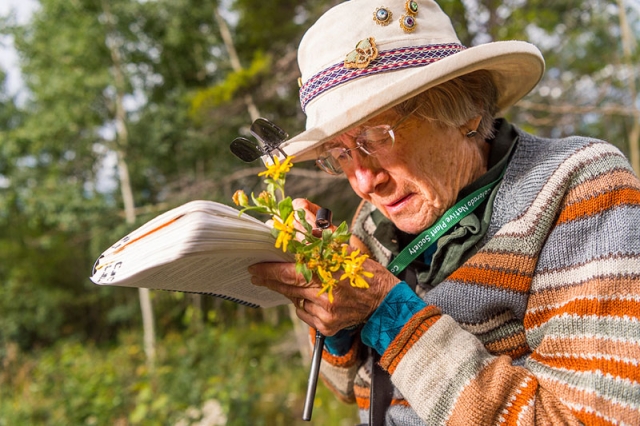 Long-time volunteer and adjunct researcher Loraine Yeatts on a botanical survey collecting plant specimens for the Kathryn Kalmbach Herbarium.
The past year and a half have given the Research & Conservation Department staff a chance to reflect on the importance of our devoted volunteers. We wouldn't be where we are today without them and we can't keep up with processing without their continued assistance. Volunteers support research happening across the globe by helping us make our specimen data publishable online. They transcribe data, identify plants and fungi, prepare specimens for long-term storage and image specimens so they may be freely accessed by anyone with internet. We miss our wonderful volunteers and can't wait to invite them back when the world is a little safer. If you'd like to volunteer in the herbarium in the future, please visit our website.