Share Spring with a Friend!
March 27, 2012
Membership Department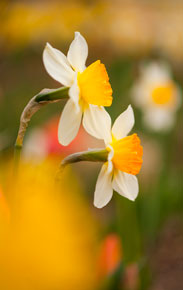 While April has its share of showers The Gardens has its share of flowers. To keep on with this sharing trend, Please share our beauty with a friend!  After enjoying leaf, bud, and tree And your pal is impressed (as we know they will be), Say: "As lovely as these paths are in the spring, You should see what a whole year of membership brings!"  And then hope that they join, for if they do, They'll get $10 off, and there are two extra guest passes in it for you! So share the joy, and please do remember All that is required is your friend leaves here a member.    The season is full of opportunities to "Share Spring with a Friend" at Denver Botanic Gardens.  Members who get their friends to join Denver Botanic Gardens at our Bonfils-Stanton Visitors Center* during a visit in April will receive two free guest passes (a $25 value) while their new member friends will get $10 off any membership.  Share a celebration of spring together! *Promotion only available through in-person sales at the Gardens Bonfils-Stanton Visitors Center.

Also: Don't miss out on fun for the whole family at Denver Botanic Gardens' Spring Scavenger Hunt on Sunday, April 8  from noon until 4 p.m.  Enjoy fun and educational scavenger hunts and win prizes for finishing, in both the Mordecai Children's Garden and the main Gardens.  Join us from noon until 4 p.m. for what is sure to be a great day for the family at Denver Botanic Gardens. Spring is full of activity, and of course the landscape of this amazing property is changing practically on a weekly basis. It truly is a great time to share these experiences with a friend.  All of us on the membership team hope you get a chance to do so.  See you at the Gardens! Michael Salamone, Membership Coordinator