Growing Your Own Food: No Backyard? No Problem!
April 28, 2020
Special Events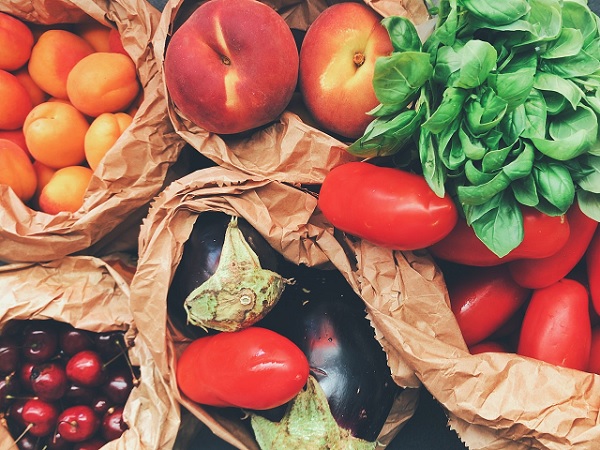 As COVID-19 and stay-at-home orders spread across our nation and state, many of us have been looking for activities that allow us to participate in social distancing while also being aware of our essential necessities such as exercise and grocery shopping. This week, members and volunteers can shop our online Spring Plant Sale for plants that check all those boxes! The sale offers a wide selection of fruits, berries, vegetables and culinary herbs that can easily be grown at home. However, if you find your living space is a little on the smaller end and don't have access to yard space, you can still grow some of your own food. We reached out to our horticulture team to offer a few tips and tricks on growing fruits and vegetables in smaller, unconventional spaces.
Planting Indoors
It might be hard to believe, but you can grow your own citrus tree inside! Just be sure to use a location that receives a lot of sun. Aside from citrus, strawberries can also grow inside from a hanging basket or container. They need a cold spot to go to in the winter when they are dormant to allow proper fruits and flowers.
Salad greens such as lettuce, spinach and herbs, such as basil, parsley and cilantro can also be grown in a sunny window—no balcony or patio necessary!
Balcony Planting
A lot of plants can easily adapt to balcony living if they receive enough sunlight and are in an adequately sized container. For example, hardy figs, blackberries and raspberries can all be grown on a balcony in a container 5 gallons or larger. Keep in mind these plants may need some extra care during the winter. Try to mulch the base of the plant generously to avoid roots freezing when the temperatures drop.
Be sure to consider size when planting fruiting vegetables. Determinant tomatoes and peppers are great for balconies because of their smaller size.
When planting herbs take into consideration the type of container you're placing on your balcony. Containers such as plastic are great for the summer but tend to restrict air movement in the soil. Wood and clay containers allow more air movement but may need to be watered more frequently.
Perennial herbs, such as mint, sage, thyme, savory and chives can all grow in a pot on a balcony. Pots 5 gallons or larger will provide ample root space and protect the plant during the winter.
Sunlight
 A key component to any successful garden will be sunlight. Be sure to take note of the amount of sun a plant will need. Full sun plants will need a minimum of 8 hours of direct sunlight.
Watering
When planting in a container, the general rule is to water when the top inch or two of the soil is dry, but the soil below is still damp. The container should never be completely dry.
Be sure to use a well-draining soil for your plant! Soils with organic compost added will provide nutrients and be beneficial for plants as it will help them grow faster.
Starting from Seed
Many fruits and veggies and herbs can be started from seed. Watermelon, cantaloupes, corn, beans, squash can all be planted after our last frost around May 20.
Keep Space in Mind
Wherever you're planting, try to keep space in mind whether you're indoors or outdoors. Plants such as strawberries, eggplants and peppers do well in smaller container while lettuce, arugula and spinach may need a larger, shallower container. When in doubt, look for creative ways to optimize your space either with hanging baskets or trellis.
Want to Grow More? Join a Community Garden!
Community gardens are a great way for small-space dwellers to grow fruits and vegetables that require more traditional growing environments. With many of them offering shared tools and hoses for free or at low cost, community gardens provide an excellent support system for novice vegetables gardeners. Plus, other members can help care for your plants when you are unable to do so. For more information about Urban Gardening and community gardens in the Denver area, check out Denver Urban Gardens.
Spring Plant Sale member and volunteer online shopping is open through May 1 at 4 p.m. or as long as supplies last. Here is more information about Spring Plant Sale.