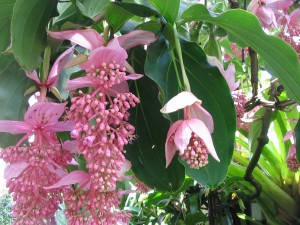 If you haven't been able to swing in and check out the Boettcher Tropical Conservatory in the last couple of weeks, now is a great time. We have just recently finished a bed renovation that is sure to please all who come to enjoy it. My teammates and I decided to not hold anything back on this one and included some of our favorite plants that weren't previously on display to the public.
As the focal center point of the newly planted bed is the gorgeous Medinilla magnifica. As the name hints, when in flower, this plant is magnificent! Medinilla magnifica is native to the Philippines and belongs to the Melastomataceae family. While our new addition is not in bloom right now, be sure to visit frequently throughout the year; you won't want to miss this one.
My teammate, Conservatory Horticulturist, Alan Schroder can barely hold back his excitement about the addition of two more plants to the new planting: the wavy-leaved Anthurium brownii and the unique Begonia 'Pigskin'. Anthurium brownii will surely grow into quite the specimen plant with its bright red venation and symmetrically wavy leaves and not to mention the unique spathe and spadix produced by the plant. Anthurium brownii has a native range from Costa Rica to Colombia and it really adds a nice aroid-ean touch to the bed.
Begonia 'Pigskin' is a unique rhizomatous begonia with a rough leaf texture. One of the nicest aspects of the plant is how when light hits it just right, the green leaves take on a bronze-ish appearance. This begonia stays low to the ground and makes quite a nice ground cover with white to pale pink flowers, be sure to take a good long look at this one.
One of my favorite additions to the new bed is the new bromeliad display we designed. Just in the front of the bed is a small embankment of lava rock that will serve as an area to rotate blooming bromeliads and orchids in and out of as we please, so that we are able to make more of our rare and beautiful plants available for public enjoyment....as well as our own!
There are many other interesting plants in the bed, so be sure to come in and see for yourselves! The newly renovated bed in just inside the doors to the Boettcher Tropical Conservatory to the right of the pond...there's no way it could be missed. Hope to see you soon as the days are lengthening and warming!