Featured Garden of the Week: Lilac Garden
June 6, 2009
Sarada Krishnan
, Director of Horticulture & Center for Global Initiatives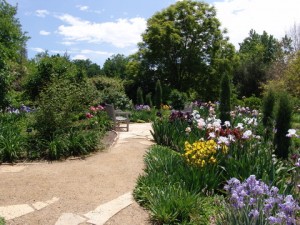 Denver Botanic Gardens is home to over 300 taxa (which includes hybrids and cultivars) of about 69 species of Iris. This diversity is distributed throughout the Gardens, though a majority is displayed in the Lilac Garden. Situated almost in the middle of our grounds, the irises in this garden are currently at their peak flowering stage. A few lilacs that did not get zapped by our late spring frost are also in bloom. Renovated and replanted in 2006, it is amazing to see how this garden has matured in just 3 years. Showcasing our lilac, iris and daylily collections, the Lilac Garden is in color throughout the season, transitioning from one plant type to another.
The original Lilac Garden at Denver Botanic Gardens was planted around early to mid 1970's with the oldest recorded lilac in the garden dating back to 1974. The garden was renovated in 1984-85 and again in 2006 to incorporate irises and daylilies. Our collections of these three genera have increased significantly through collaborations with the International Lilac Society, American Iris Society and Mile High Daylily Society among others.
Ann Montague, Horticulturist who maintains this garden, has developed a section in this garden devoted to showcasing local Colorado hybridizers. Numerous varieties developed by local hybridizers were donated by Long's Iris Garden and Iris Colorado in 2007.
Stop by within the next week to see irises of all colors and sizes planted aesthetically in this garden. Not to worry if you miss the irises, this garden will be transitioning to daylilies shortly.