Concert season is over for the year both at our York Street and Chatfield locations. We had a dazzling array of talented musicians here again this year, and the Gardens have never looked better.
I wasn't able to make it to all of the concerts, however at every show I was fortunate enough to attend I saw the same couple up and dancing in the area in front of the stage. At the second-to-last concert, I finally had the opportunity to meet these music aficionados. Rick Hum and his wife Karen, longtime members of the Gardens, along with a loyal group of friends, attend most of the concerts together. They do a little research on the various artists that play at the Gardens and talk about the artists' backgrounds and history while enjoying their picnic dinner on the lawn before the concert.
Here are some 2009 concert reviews from Rick for you to enjoy, along with some helpful tips from him on attending concerts next year that I think you will find useful. Thanks, Rick, for your great insight. I'll see you front and center at our first concert next year!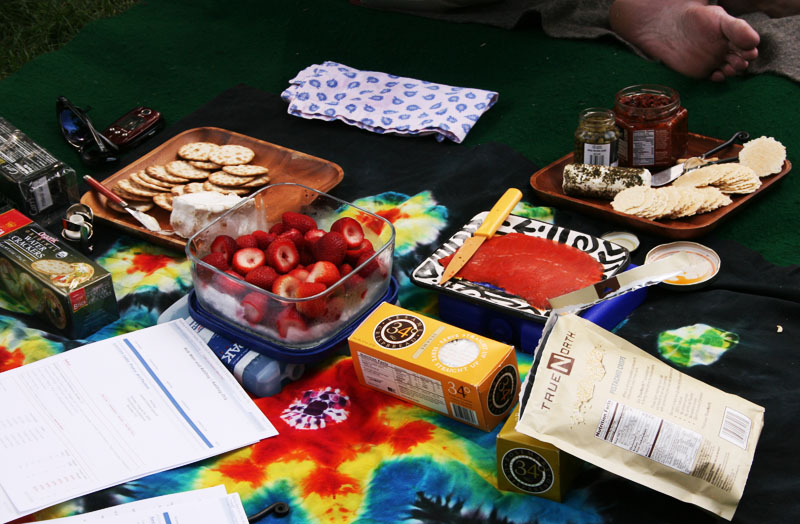 Here's a summary of some of the music this past season:

Leftover Salmon was a great kick-off for the season. A Colorado group from Boulder that came together out of the Salmonheads and the Left Hand String Band. Their music was very up-beat and more varied than their instruments would lead one to believe.

David Sanborn made his only stop outside of California at the Gardens this summer. He is still a great player and always has high quality musicians with him.

Joe Cocker has come a long way since Woodstock. He has settled in Crawford, Colorado with his wife Pam. They are doing wonderful things for that community and for kids. Joe can still belt out the vocals, jump and vibrate with the music. His band was excellent and not too hard to look at.

Chrissie Hynde of The Pretenders can still sing, play guitar and woo her audience (when she wants to) and rock with the best of them. She seems to really enjoy her new lead guitarist, 23-year old James Walborn of North London. The Chatfield concert site has improved greatly.

Los Lobos provided their typical high-energy, good-natured fun variety of music. But three brothers out of San Angelo, Text stole the show. There was a lot of very good music coming from just one guitar, one bass (a big six-string) and one set of drums. When Jojo played Henry's Guitar and did a lap around the stage, and then the two together played on one guitar—what a remarkable feat.

Poncho Sanchez is becoming the elder statesman of Latin Jazz in this country. It was unfortunate that Lila Downs was ill and unable to perform, but Poncho Sanchez and his band filled the evening with great music. The crowd was surprisingly sparse, but much of that is attributable to it being the first Monday after school starts and a rainy evening. It was one of our most enjoyable concerts because it was reminiscent of early Gardens concerts with kids rolling down wet hillsides, room to dance and lots of good music. Karen invited Christopher to come back and join the dancers in the second set. It was wonderful to see his joy at being part of the dancers.

Bob Weir, RatDog and Jackie Green – Jackie Green with a small band opening the show with some very fine music. He's a great musician with a fine voice. RatDog got on stage relatively quickly after the stage was reset. The band, and especially Bob Weir, seemed a little road "weiry" (pun intended) but the audience was on its feet from the start and the energy seemed to spread from the audience back onto the stage. If you rate shows by the POTFAD factor (People On Their Feet And Dancing), this was definitely the most response for any act this summer. Bob Weir and the band were very tight. They moved from one song to jam to the next song with ease and great style. There was a wonderful collection of Grateful Dead music played in a respectful and honest manner. The other music from Dylan, Terrapin Station and a rousing encore of Johnny B. Good (Chuck Berry) really kept the crowd dancing and singing. Lots of great music in a strong two-hour set. Kenny Brooks' sax playing was treat, along with fine keyboards by long-time RatDog keyboardist Jeff Chimenti. The Dead lives and tours in many forms, all appreciated.

Making the most of your concert experience at Denver Botanic Gardens.

Denver Botanic Gardens is the finest concert venue in Colorado. The intimacy of the grass bowl, the staging, the comfortable listening and the opportunity to bring your picnic dinner and beverages make the concerts at the Gardens a wonderful opportunity. There are some members of the Gardens that have taken concert-going beyond the simple picnic and two-hour concert. Here are some suggestions to maximize your Gardens concert experience next year:

Get in line early. This provides best concert seating but also allows time to enjoy pre-concert activities.
Meet and make friends with others who come early and are in line.
Bring champagne [York Street only] and hors d'oeuvres. This increases your pleasure and helps you make friends.
Use your membership to walk in the Gardens during the afternoon [York Street only].  Once you've made friends in line, taking a little time to visit the Gardens is usually no problem.
Create a friendly and considerate culture among concert participants and those in line.
Bring rain gear and umbrellas, just in case.
Eat a light dinner before the music starts.
Get up and dance!