Mycophiles Wanted
September 14, 2009
Jennifer Ramp Neale, Ph.D.
, Director of Research & Conservation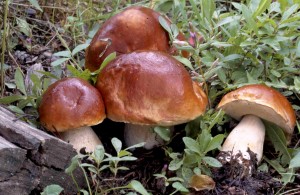 Have you ever wanted to go on a mushroom hunt?  Your opportunity has arrived.  Join the Colorado Mycological Society September 18-20 for the Rocky Mountain National Park Mycoblitz.  The mycoblitz, an event where a group of people get together for a short period of time to identify mushrooms in a given area, will be the second to be held at Rocky Mountain National Park.  The mycoblitz is a joint endeavour between the Colorado Mycological Society (CMS), Rocky Mountain National Park (RMNP) and Denver Botanic Gardens Sam Mitchel Herbarium of Fungi.  This is the second year of this important activity designed to document the types of macrofungi growing in 10 selected habitats throughout the Park in a short period of time.  The 24-36 hour period is varied from year to year in order to survey the great variety of mushrooms fruiting in varied ecological niches in the Park.  The essential aspect of a scientific Mycoblitz is 'vouchering' each specimen.  This involves careful collecting by dozens of volunteers, identification of each by specialists (Dr. Michael Kuo and DBG's own Vera Evenson) using macro and micro features, photographing, drying, and labeling each collection.  As in 2008, the RMNP specimens will be brought to the Sam Mitchel Herbarium of Fungi for further documentation, databasing, and permanent integration into our diverse collection.  Collections made during the 2008 mycoblitz include at least 4 new-to Colorado species within the genera Phaeocollybia, Galerina, Suillus, and Russula.
You never know what treasures may be found, a new species of Amanita was found in a bioblitz at Soapstone Prairie Natural Area earlier this summer.  For more information on how to participate visit the CMS RMNP mycoblitz website or the MycoRant.  For more information about the Sam Mitchel Herbarium of Fungi visit our web page.