Amazing Transformation
July 5, 2008
Sarada Krishnan
, Director of Horticulture & Center for Global Initiatives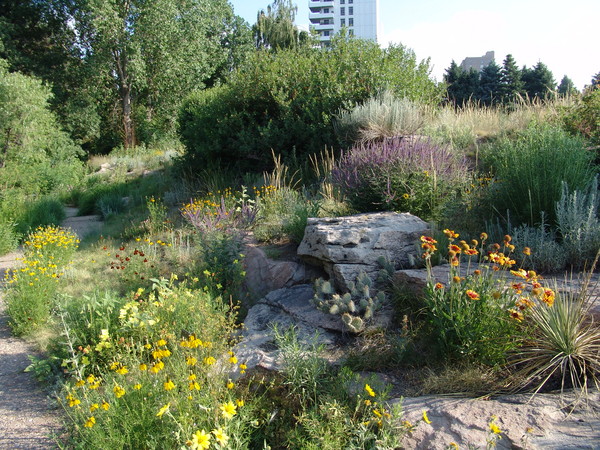 Early this spring around mid-March, the native Plains Garden at Denver Botanic Gardens underwent a simulated version of a vital ecological process of the shortgrass prairie -- FIRE. Fire is important in maintaining the structure and diversity of the shortgrass prairie ecosystem.
Since human settlement, fire suppression has lead to the alteration of vegetation composition of the shortgrass prairie and the resulting biotic interactions. The prescribed burn at the Gardens performed under the able supervision of our curator of native plants, Dan Johnson, reminded us of how important these ecological processes are in maintaining the diversity of our native ecosystems.
Four months later, the transformation of this garden is just amazing. Bursting in color, many native forbs intermingle with prairie grasses. Currently in bloom are the Lead Plant (Amorpha canescens), Blanket Flower (Gaillardia aristata), Indian Paintbrush (Castilleja integra), Dwarf Sunflower (Helianthus pumilus), Golden Aster (Chrysopsis villosa), Prairie Coneflower (Ratibida columnifera) and Purple Prairie Clover (Dalea purpurea). Without any supplemental irrigation this garden replicates what once used to be the Denver and surrounding landscape.