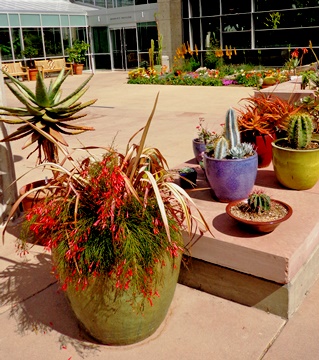 Containers in front of Marnie's Pavilion
How does one encapsulate a cultural facility's entire year, when you consider that there are dozens of gardens that are transforming ongoingly from spring until fall, and every day is magically different! And every garden has something special to recommend it. I can't pretend that these pictures represent even a fraction of the wonderful vignettes we've enjoyed through this year, but they may show a facet or two you might have missed and must look forward to in 2014! The containers in front of Marnie's Pavilion seem to get more and more interesting every year. I love the colorful pots almost as much as the lavish succulents inside them!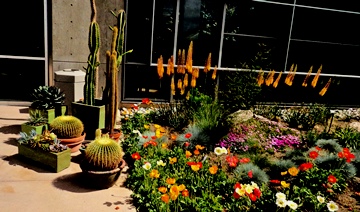 The front of Marnie's Pavilion
I never cease to marvel at the transformations this garden goes through every year--and every year there seems to be a very different combination of plants, even though quite a few are perennial. The colors are never more vivid than in June....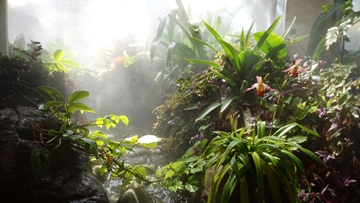 Inside Marnie's Pavilion is a different story
What a contrast to the glaring light--inside the orchid pavilion the mist and majesty of waterfall and tropical extravaganza wafts you away to the Equator!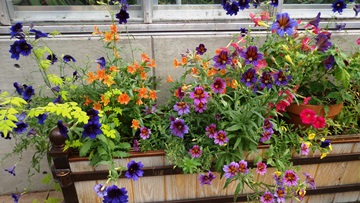 Containers in the Orangery
Four times a year the horticulture staff change the contents of the dozens of containers inside the long long promenade inside the Orangery. I loved the Salpiglossis (purple striped flower dead center) and the Diplacus in this year's display.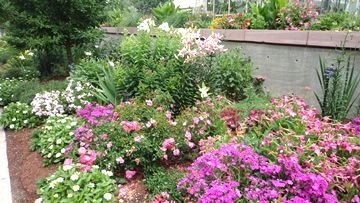 Color themed beds along the Orangery
The walkway in front of the Orangery was once called "Horrible Hillside" by the staff--it has become a dazzling centerpiece and everyone's favorite. Ann Montague, horticulturist in charge, seems to have whipped each color themed bed into a fever pitch of blossoming from spring to fall!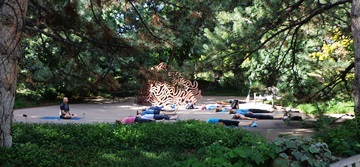 Yoga practice in the Oak Grove
What a contrast the peaceful scene as Blake directs yoga practice on peaceful mornings just a few dozen feet from the riotous color. I thought the placement of Linda Fleming's Refugium (one of the "Catalyst" sculpture exhibit) was especially lovely in this spot--and appropriately named.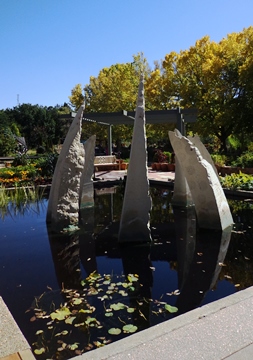 Nancy Lovendahl "Fractal Echo"
I think quite a few of us wish that the Gardens could keep this exhibit from Catalyst. It seemed so graceful, albeit with a little menace!
  "Reflections" by Frank Swanson
Of course, we already have a permanent piece of limestone sculpture (local artist, Frank Swanson's wonderful "Reflections") which provides such a wonderful counterpoint to the really spectacular water garden displays that seem to get more amazing each year under our water garden curator Tamara Kilbane's watchful eye!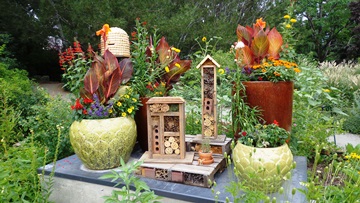 Bee hotel
I was impressed to find that every botanic garden I visited in Scandinavia and Germany this past spring had "Insectariums"--structures to attract beneficial insects to their gardens. I was looking forward to coming home and informing my colleagues about this new discovery. Much to my chagrin, they'd already created one--every bit as nice and nicer than any I saw in Europe. It struck me like a wonderful piece of folk art--only highly functional!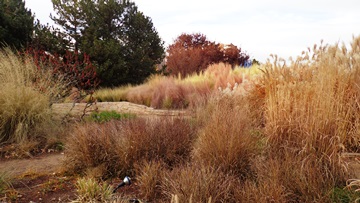 Ornamental Grasses garden
The Ornamental Grasses garden has never been more beautiful than it was this last autumn. The grasses turned every shade of tawny and gold and held the color for months on end....aaaaah!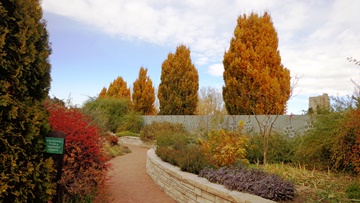 Romantic Garden
Not just the grasses--everything turned magnificently this autumn. Everyone seemed to marvel at the gentle descent into winter this year, and how wonderfully all the shrubs and trees turned (keeping their color forever). Here is a glimpse of the fastigiate beeches in the El Pomar garden from the Romantic Garden. They've only been in for fifteen years--and look how massive they're getting! Nothing stays the same!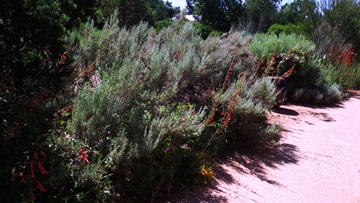 Sagebrush in Sacred Earth
Our "ethnobotanical garden," Sacred Earth has gone from strength to strength. The gnarly Artemisia tridentata bushes are becoming regular Bonsai, and for months in the spring they are filled with wildflowers that have naturalized. You can see the dozens of wands of Scarlet Bugler penstemon (Penstemon barbatus) which has made itself thoroughly at home in this garden!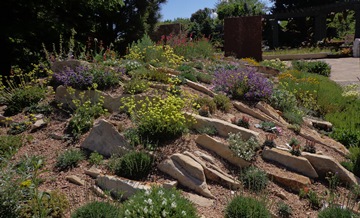 There are nearly a half dozen dramatic crevice gardens that were constructed over the last few years by staff from the Rock Alpine Garden under Mike Kintgen's supervision. These gardens have astonished visitors by filling so quickly with spectacular alpines and steppe plants that have never grown so well before. This innovation has added a wonderful new dimension to our collections!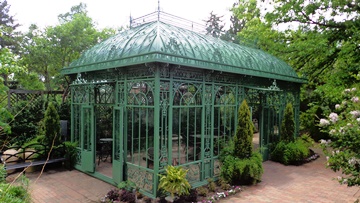 The new Solarium
I never cease to be amazed at how powerfully serendipity operates at the Gardens! There was a large, dilapidated lath structure in Woodland Mosaic that was falling apart. Our CEO was contacted by a local family who donated this gorgeous Victorian style structure which occupies the exact footprint of the lath building that was! This rather quiet garden has suddenly attained star status. People love to picnic in the greenhouse which is wonderfully almost any time of year! John Murgel has added a wealth of new plants which are complementing and enhancing the greenhouse--if you have not yet savored a moment there, do bring a capuchino down to sip and relax on the padded chairs inside, and marvel, as I have, at the elegance and magic that is Denver Botanic Gardens!
These are just a few highlights--and of course, the Mordecai Children's Garden, the Boettcher Memorial Tropical Conservatory, the Japanese Garden, the vast Perennial Walk and so much more are not even mentioned...their time will come of course. No way you can encapsulate a garden of this scope into a single blog!