"World Water Day" conjures up images of far-away problems (e.g. a billion people around the world do not have access to clean and safe water – with more than a third of these people living in Sub-Saharan Africa). If such alarming stats summed up World Water Day, however, the most anyone living in Denver could do would be to send money to an international water charity.
Water issues, really, are not global. They are local.  As universal as the need for water is, its cleanliness in one region does not solve the problems of its pollution in another. Nor does its abundance in one place alleviate the stresses of its shortages elsewhere. In order for March 22 to really effect change on a global level, every community must re-evaluate its relationship with water.
The relationships developing-world communities have with water are typically framed by poverty, lacking infrastructure and political instability – factors that can constrain water supply and quality. But higher standards of living, better infrastructure and political stability do not ensure a problem-free relationship with water. The United States has our fair share of water crises. Across Texas, an eccentric billionaire has been quietly buying up water rights for the last few years, confident that water will soon be the new oil. Meanwhile, a third "straw" is being added to Lake Mead – to the tune of more than $700 million – to ensure Las Vegas will still have the water it needs if (when?) the lake's water level falls below the existing two outtake pipes. And another Las Vegas – in New Mexico – virtually ran out of water last summer.
Denver and Colorado have a unique relationship with water. Colorado is the source of a river supplying seven thirsty Southwestern states with water. As such, it's one of the only states that essentially bans rainwater harvesting to comply with water laws in which "downstream" rights trump all. So Denver - officially semi-arid with an average of 15.8 inches of rain each year – has to make every drop count.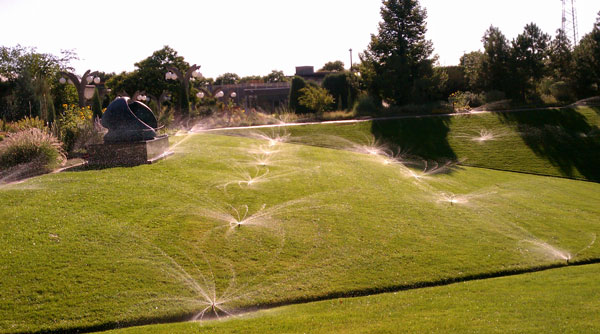 With outdoor water use accounting for more than half of Denver's water consumption, water-efficient gardening can really help conserve this precious resource. Denver Botanic Gardens identified sustainability as a core value with this in mind – educating our community on how to design and maintain a beautiful garden with plants that are appropriate for our semi-arid climate. From the way we irrigate to the plants we feature in our gardens, we try to set an example of good water management.
In this new blog series dedicated to water issues, we'll share more on what we do here at the Gardens and offer tips on what you can do in your own gardening lives to help safeguard our water resources. We'll also keep you apprised of events at the Gardens on this topic – like the March 17 lecture on waterwise plants and, on March 22, a lecture on sustainable water features.
So, this March 22, don't let us stop you from sending money to an aid organization half way around the world. But know that how you plan your garden this year can also be an important part of solving our water problems.