We Study Fungi at the Gardens?
September 10, 2012
Jennifer Ramp Neale, Ph.D.
, Director of Research & Conservation
Why yes we do, and we have for several decades.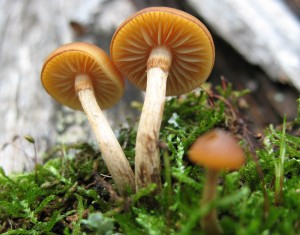 The last weekend in August, over fifteen citizen scientists and several mycologists braved the wee hours of the morning and one of the driest summers in Colorado to spend the weekend hunting, cataloging, photographing and identifying macro-fungi for the Rocky Mountain National Park bioblitz. Macro-fungi are those fungi that produce large, showy fruiting bodies, which are more commonly known as mushrooms, chanterelles, and truffles. Of course in the natural world, large is relative term. The team collected puffballs that were a foot across as well as mushrooms with caps less than one-tenth of an inch in diameter. Even in a dry summer, a diverse and colorful array of fungi can be found in Colorado. No doubt whether you have hiked the hills and mountains this summer or lounged in your backyard you have noticed at least a mushroom or two, and have possibly even wondered what these organisms do. Why are they living in your lawn or pushing up through two inches of pine duff? Join us on Wednesday, September 12 at noon in Gates Hall to have your questions answered at the next installment of Research & Conservation's lecture series "Re-search the Gardens: Meet our Scientists." Vera Evenson, curator of the Sam Mitchel Herbarium of Fungi, will present on the vital role of fungi in the life of plants as well as share stories and images of a few of Colorado's beautiful and fascinating mushrooms. The bi-monthly series presented by our staff scientists and adjunct researchers takes you behind the scenes and out into the field to share the stories of the species with which we work and the amazing areas we visit as we conduct our research. Please join us for this informal seminar series as you're always bound to learn something new. All talks are free with admission to the Gardens and are presented at noon. Feel free to bring your lunch. Read more about the series.