A Virtual Orchid Showcase
January 16, 2021
Erin Bird
, Communications Manager
"The orchid is Mother Nature's masterpiece." – Robyn
A lovely sentiment from an unexpected source – Robyn, a Swedish pop singer and DJ – but it demonstrates the universal appreciation of orchids.
Due to COVID-19, our annual Orchid Showcase has been canceled, but we are hosting a Virtual Orchid Showcase on Jan. 16 – 22!
Visit our Instagram to see rare and beautiful specimens in our greenhouse collection that are never on public display.
Hop over to our Facebook to discover a few more orchid specimens, get orchid care tips and other orchid content including videos about our collection and botanical illustrations.
We will also share orchid fun facts and photos on Twitter. Followers will have an opportunity to show us their orchid plants, creating a communal online orchid display.
Orchids have been a part of Denver Botanic Gardens living collections since the first greenhouses opened onsite in 1966. In fact, the oldest plant still living in the collection today is our specimen of Vanilla planifolia (the source of natural vanilla flavoring) which was officially added to our collections on July 1, 1967. Over the years the collection has grown to more than 2,400 plants representing 1,450 unique taxa from all over the world.
Please note: the Virtual Orchid Showcase is online only. No orchid display or related programs are happening on site at the Gardens. We look forward to presenting an in-person Orchid Showcase in 2022!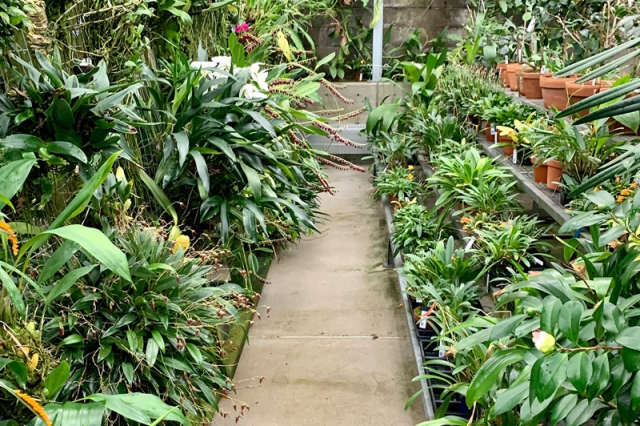 A look inside one of our orchid greenhouses.
Comments
Care of my orchid
I have a orchid which bloomed beautiful now the blooms have gone but my green leafs were looking healthy so I left it in the same spot now it has some new buds and has flowered how do I care for rest do I cut the dead stems. Thank you
Orchid care
The fact that your plant has rebloomed is a good indication that you have been giving it appropriate care so I would keep doing what has worked for you thus far. When the blossoms drop, the flower spike can be cut from the plant. 
Nick Snakenberg
Associate Director of Horticulture & Curator of Tropical Collections
Add new comment