Virtual Colorado Environmental Film Festival: Feb. 12-21
February 9, 2021
Jennifer Riley-Chetwynd
, Director of Marketing & Social Responsibility
I have been making an annual pilgrimage to Golden the third weekend in February for the past four years to attend the Colorado Environmental Film Festival (CEFF). It's always worth the trip – even if my record is 50/50 for being caught in a blizzard on the way there from Denver. This year, snow is (sadly) not the greatest impediment; COVID is. So, like so many other events, CEFF has gone virtual.
Nearly a year into our homebound retreat, the auto-populated recommendations on Netflix are neither new nor compelling. The timing of a 10-day (February 12-21) celebration of fresh, inspiring and educational cinematic stories on a wide range of environmental issues couldn't be better.
There are more than 70 films, divided into 22 collections – there's everything from youth-oriented programming to feature-length documentaries, covering everything from water issues to e-waste. Instructions on "how to fest" explain your options for entertainment and/or engagement. A variety of passes allow access for as little as $1 per film, and you can participate in live chats, happy hour viewing parties and even attend the Eco-Expo Showcase, where you'll see short-film contributions from regional environmental organizations, including Denver Botanic Gardens. 
We all eagerly await the return of the in-theater movie experience – be it in Golden at CEFF or even at the new Sturm Family Auditorium at Denver Botanic Gardens' recently completed Freyer – Newman Center. But in the meantime, CEFF continues to provide its February tradition of showcasing impactful, new content – and we benefit from a 10-day respite from Netflix burnout.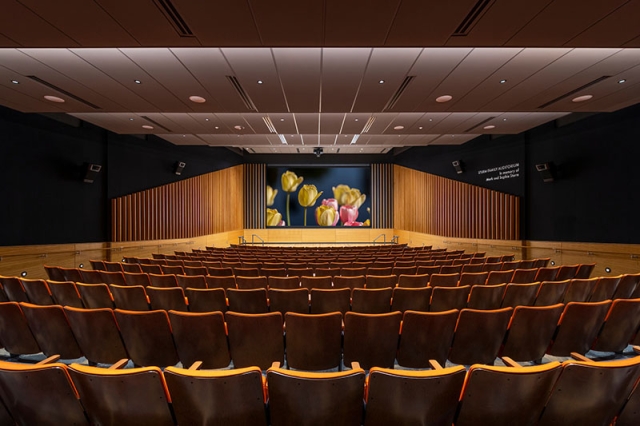 Sturm Family Auditorium, Freyer – Newman Center
Comments
Colorado Environmental Film Festival
We were looking for something special and momentous to do for our 15th annual CEFF, but we didn't imagine a pandemic and so a virtual festival! But CEFF is both special and momentous this year! Longer, more films, more viewers (we are truly global in both our films and our audiences this year), more additional programs and events including a young filmmakers class and challenge. And this would be the year when blizzards wouldn't impact us. Too bad we don't even have much snow.!
Hope to "see" you all there. Shawna Crocker, CEFF Founder.
Add new comment