Victoria & Andrew – A Wedding for the Best of Both Worlds
June 19, 2019
Special Events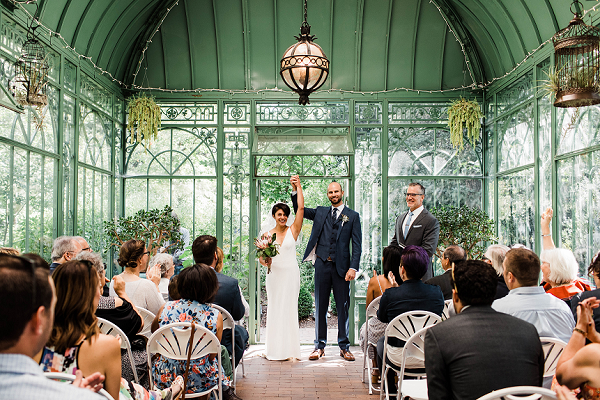 It's peak wedding season here at our York Street location, and couples of all kinds are tying the knot surrounded by friends, family, flowers and foliage!
Today, we dig deeper into the story of one such couple, one that is particularly special to us since the bride is an employee at the Gardens! Enjoy Victoria's story below (and don't miss the surprise cameo by one of our most famous plants!)
Andrew and I had been together for many years and had talked about getting married, but we weren't in a hurry to do so. However, when my parents decided to come visit us in Denver for the first time, it prompted us to say, "Everyone will be in town, so why not?" So, one day in early June, we decided to get married over Labor Day weekend of the same year. Craziness! Thankfully, my mother-in-law is a party-planning pro and helped us organize an amazing weekend of celebrations.
While my husband had always dreamed of getting married in the mountains, I had always wanted something small, more like a courthouse arrangement. It turns out we found the perfect compromise at the Gardens: we were surrounded by nature in an intimate setting that all of our guests, young and old, could easily access.
Woodland Mosaic was the perfect setting for our wedding. It seated our ~50 guests perfectly, it was secluded enough that we hardly noticed other visitors wandering the Gardens, and the acoustics of the metal and glass solarium were exceptional for the classical Mexican guitarist that underscored the ceremony. The space fit our traditional-Mexico-meets-Colorado theme perfectly!
We chose to host our ceremony in the morning, with a several-hour break before the reception that evening. We essentially had the Gardens all to ourselves at the beginning of the day before the Labor Day weekend crowds started arriving in droves. We got some beautiful photos during the dawn golden hour, and it also allowed Andrew and I to have some quiet, intimate moments before the craziness of the day got started. I highly recommend it!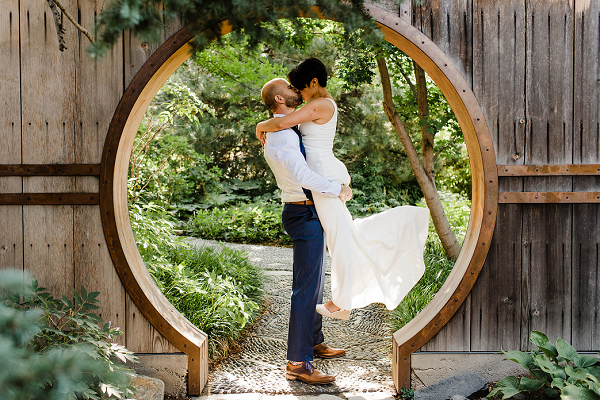 The next day, we hosted a traditional recalentado, a Mexican tradition where wedding guests come back the next day to eat leftovers and see the bride and groom off. This particular recalentado had a dual purpose: we also celebrated my 35th birthday!
Interestingly, it turned out that Stinky (our famous Amorphophallus titanium plant) also surprised the horticultural staff with a rare bloom that occurred just before our big day. Fortunately, we got married on the other side of the Gardens, so the bloom didn't affect us much. But how many people can say they got married at the same place that a giant, smelly flower was also blooming?
Our Private Events team would love to learn more about your wedding dreams to help you find a site in the Gardens that fits you perfectly. To learn more and to set up a tour appointment, contact us at private.events@botanicgardens.org or call 720-865-3551.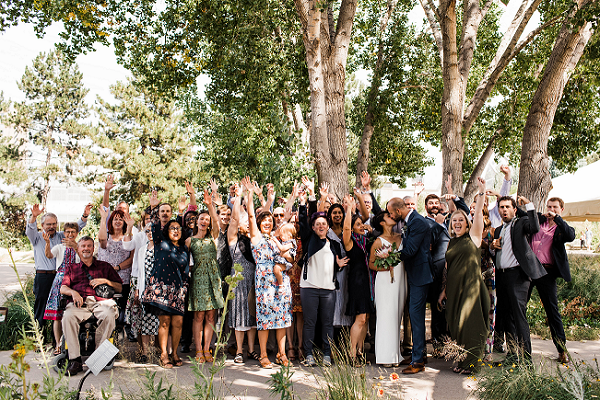 All photography by Sheena Shahangian Photography
Comments
Hello Denise
Hello Denise,
Thank you so much for your message! We have 13 unique event spaces of various sizes at the Gardens.
We'll reach out to you directly with more information!
Many Thanks,
Private Events at Denver Botanic Gardens at York Street
Hello Caitlin
Hello Caitlin – thank you for your interest in our event spaces at Denver Botanic Gardens York Street. Please email our private rental team at private.events@botanicgardens.org and our team will reach out to you promptly.
Thank you,
Private Events at Denver Botanic Gardens York Street
Re: Wedding Info
Hello Samantha,
Thank you for the message! Yes, this venue is open during our Blossoms of Light holiday light show. Please contact us at 720.865.3551 and we would be happy to discuss the details with you.
Many Thanks,
Private Events at York Street
Add new comment