From the Vault: Alice Eastwood and the Flora of Denver
May 26, 2021
Jennifer Ackerfield
, Head Curator of Natural History Collections & Associate Director of Biodiversity Research
One of my botanical heroes is the remarkable Alice Eastwood. Although she never had any formal training in botany, Alice was one of the most preeminent botanists in the West in the late 1800s and early 1900s. She began her career as a high school teacher in Denver in 1879, after graduating as class valedictorian from East Denver High School. While working, she saved most of her salary of $475 a year to fund her most passionate hobby – summer botanical explorations in the Rocky Mountains. 
Alice went to great lengths to pursue plants – she learned how to ride horses so that she could travel to remote, inaccessible locations, and she even designed her own expedition outfits. During this time, Alice also compiled and wrote "A Popular Flora of Denver," published in 1893, a few copies of which are housed in the rare book collection of the Helen Fowler Library.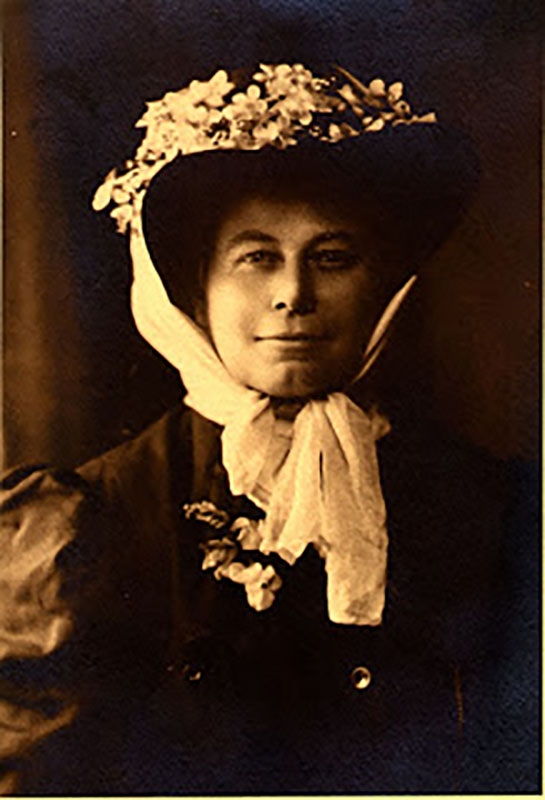 Image source. Public domain. 
Alice moved to California in 1892 and began working as the curator of the California Academy of Sciences herbarium in San Francisco, but she continued to return to Colorado to document the flora. In particular, Alice was interested in the desert country and Mancos clay hillsides of the western part of the state. During her career, she described to science over 700 new species of plants, such as Castilleja scabrida, and had many more named in her honor, such as Erythranthe eastwoodiae. One new species that Alice described was Oreocarya aperta, which she collected near Grand Junction in 1892. Today, this species is only known from her type collection and is otherwise presumed extinct. Alice even received the great honor of having two genera named in her honor – Aliciella and Eastwoodia. 
When the 1906 San Francisco earthquake struck, it destroyed the California Academy of Sciences building and herbarium. Alice bravely rescued over 1,000 type specimens (irreplaceable reference specimens for species) from the building by climbing the broken marble stairs and lowering the priceless specimens to a friend. Unfortunately, most of her own specimens that she had been diligently collecting over many years were lost – but thankfully, some of her specimens were deposited as duplicates in other herbaria.
Alice Eastwood's amazing legacy lives on through the over 340,000 herbarium specimens she collected! The collections she made in Colorado eventually formed the basis of the University of Colorado herbarium. Along the way, a few specimens found their way to the Kathryn Kalmbach Herbarium of Vascular Plants at Denver Botanic Gardens, including this specimen of Solidago collected in Barnum Park, Denver in 1910. Although Barnum park is very different looking now, this specimen provides us with window to what it looked like over 100 years ago.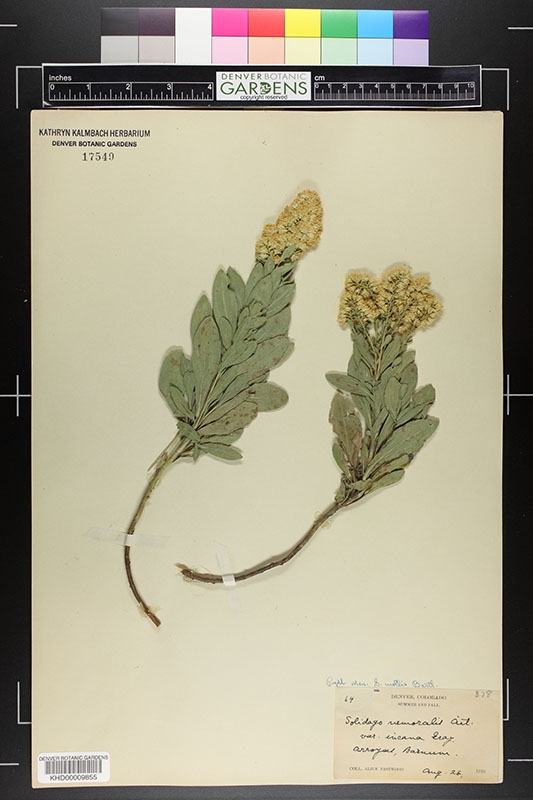 We are documenting the current flora of the metro Denver area through the Denver EcoFlora project – and will use this data to compare our findings with those compiled by Alice Eastwood over 100 years ago!
From the Vault: Wonders and Oddities from the Gardens' Collections
Inspired by the fantastic stories of collections highlighted in the 2020 exhibition From the Vault: Wonders and Oddities from the Gardens' Collections, staff working with art, library and natural history collections will be sharing wonders and oddities from the collections online. Each entry in this new blog series will feature a staff-favorite object. Enjoy these peeks into our storage vaults to learn more about our varied collections.